Details
Huawei FreeBuds 2 Pro: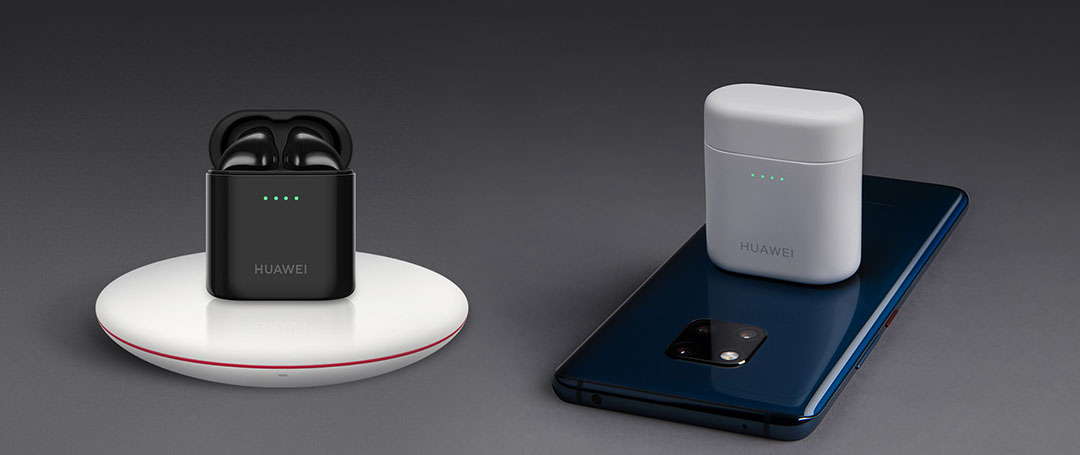 Bluetooth 5.0 Handsfree Earphone
The FreeBuds 2 Pro connect via Bluetooth 5.0. Connecting the earbuds to your phone is simple and easy after the very first pairing. All you have to do is flip open the case of the earbuds and a prompt shows up on the screen with details about the earbuds including its current battery level and a request to pair. In ear style, very convenient when driving and doing sports.

IP54 Rating Waterproof
The FreeBuds 2 Pro have an IP54 rating so sweat and rain shouldn't damage them.
BoneID Technology
Using a combination of voice recognition and "bone sound pattern" recognition, the FreeBuds 2 Pro can be used as biometric recognition. Apparently, each individual has a unique bone sound pattern.
Simply ask it to unlock your phone and it will do so. You can use the FreeBuds 2 Pro to make payments with your voice as it has support for WeChat payment and AliPay.
420mAh Battery
The earbuds have a battery capacity of 420mAh and Honor says they should last 2.5 hours on a single charge and up to 15 hours with the charging case. The case charges via a USB-C port and can also be charged wirelessly.
The wireless charging case that holds the Huawei Freebuds 2 will not only charge via a wireless charging pad but also via the back of the Huawei Mate 20 and Huawei Mate 20 Pro. Huawei Mate 20 Pro can reverse charge the headset box.

Specifications:
Bluetooth version: Bluetooth 5.0
Calling time: 2.5hrs
Frequency response: 20Hz - 20KHz
Bluetooth Protocol: A2DP 1.3; HFP 1.6; AVRCP
Indicator lights: a RGB

tri-color

LED and four green LED lights.
AI voice

interaction

, recognizes "people".
Packing List
Huawei FreeBuds 2 Pro, Charging Case

x1

,

Type C

Charging cable x1, User manual
Additional Information
| | |
| --- | --- |
| Compatible | Honor Magic 2 , Huawei Mate 20, Huawei Mate 20 Pro, Huawei Mate 20 X |
| Category | Headset/Speaker |
| Color | Black |
| Material | No |
| Manufacturer | No |
1. We ship all over the world. Just buy and enjoy our service, we ship it to your door.
2. Total delivery time includes processing time and shipping time, tracking number will be provided . We declare the package at low price to help you avoid importing customs tax.
2. The total shipping cost is calculated by package weight.
WORLDWIDE SHIPPING AT GIZTOP.COM
Post Registered Air Mail
(1). for USA, Canada, Australia customers, it takes about 7 to 15 working days.
(2). For United Kingdom, France, Germany, Italy, Spain, and most other west Europe countries, it may take 8 to 15 working days.
(3). For South America, east Europe countries, east-south Asia, it may take 12 to 30 working days.
(4). For other countries, it may take 15 to 30 working days.
Express Expedited Shipping
We provide extra expedited shipping for who want to get the order promptly, 4-8 working days to your door worldwide.
Do I need to pay customs tax?
As customs rules in various countries can frequently change, this can cause delays, and at times additional charges imposed by the receiving country. While we take all reasonable steps to comply with general world shipping standards, Giztop may not know the details of additional customs taxes or duties, or if any specific item was prohibited or confiscated by the receiving country. It is recommended that you investigate the relevant local laws in your country. We declare the package at low price to help you avoid importing customs tax.
When can I get the tracking number?
We understand your feeling about waiting for the package, we alway try our best to provide prompt shipping to each order. Normally, we will ship orders in 48 hours after you finished payment. The shipping company will return the tracking number to us in 1-3 days after collect the package and deal with the package. So we will update the tracking number to you in 5 days. sometimes, the order status is processing, but in fact, the package is on the way, just a little delay on shipping status updating. Please wait for a few days patiently. You also can contact us if you have any question.
Please read these information before buy a smartphone on Giztop, it will help you to make right decision.
---
Google Play
All phones are pre-installed Google Play, it means they are fully support Google Apps and Google Play services.
Language
The most phones support t multi-language: English, Italian, Indonesian, Danish, French, German, Spanish, Dutch, Norwegian, Portuguese, Swedish, Vietnamese, Turkish, Greek, Russian, Arabic, Thai, Japanese, Chinese Simplified, Chinese Traditional and more.
4G LTE Network Bands
All phones are unlocked and no-contract.
Please check the phone's bands before place order, here is the world's

list of LTE network bands

North America: B2, B4, B5, B12, B13, B17
Europe: B1, B3, B7, B8, B20
Asia: B1, B3, B5, B7
5G NR Netword Bands
Related Products

You might also like...

31 customer reviews
Questions

By Ahmed August 28, 2019

How much do u charge for shipping to Bahrain?
Is it original and official from huawei?
----------------
Re: Yes, it's original, the shipping cost is base on your option.

Is it compatible

By Jt July 29, 2019

Is it working with huawei p30 pro?
--------------
Re: Yes.

Love my Huawei Freebuds Pro 2!!

By BK Techoholic May 02, 2019

I own the Huawei mate 10 pro, which I absolutely love, and I've been wanting these for a while. Tried get a good idea of what the Huawei freebuds pro 2 where like, but a lot of the YouTube video reviews were not in English. I also had some concerns about how safe it was to purchase from an online seller based outside of the US. But, because of the great review by YouTuber Flossy Carter, I was not only excited to finally make the purchase, but I trusted Giztop because Flossy Carter also purchased the Huawei freebuds pro 2 through this website, and provided the link. I placed my order April 18th and received my freebuds on May 2nd. Any inquiries I made about the status/tracking were immediately responded to. The packaging was perfect, nothing opened or looked suspicious. So far so good! I hope this review helps with any reluctance anyone may be feeling about buying the Huawei Freebuds Pro 2, or Giztop. I personally, will definitely looking at some other things on Giztop. Peace and love from Brooklyn, NY.

Comparability

By H.k May 02, 2019

Is the Free Buds 2 pro comparable with the Huawei Nova 3i ??
----------------
Re: Yes, it can.

Is the page legit?

By Jairo April 28, 2019

I want to order these headphones but I already had bad experiences with pages that are not official and I wanted to know if this page is legit?
------------------------
Re: All orders and payment are protected by PayPal, it's safe for buyers.

P30

By A April 27, 2019

Would this work with P30?
-----------
Re: Yes, it does.

PayPal

By Heine April 11, 2019

Does this siste only supporter PayPal or is IT possible to pat ant other way?
-------------------
Re: PayPal and Credit Card.

SHIP

By JakubX113 April 02, 2019

How long to ship to the Czech Republic?
-------------
Re: It's base on your shipping option, 8-20 days.

Help

By noname March 28, 2019

How can i turn on Google assistant?
--------------
Re: It's on your Android phone, Google service.

p20 lite

By vasilis March 28, 2019

Do those work normally with p20 lite?
-----------
Re: Yes, they do.

HELP

By ANDREW March 27, 2019

Why haven't the headphones yet come out officially? I would like to buy them in the store but there isn't ... Furthermore, by buying them from the site I could not have the language I want right?
-----------------------
Re: Because the Freebuds 2 pro only support Chinese Voice assistant, so you can use it as normal Bluetooth true wireless earphones.

REVERSE WIRELESS CHARGING WORKS ONLY WITH HUAWEI PHONES

By Ashfaq March 25, 2019

Reverse wireless Charging capability works only with HUAWEI Phones such as MATE 20 Pro or other phones which have Wirless Charging capability . Thank you

Wireless Charging

By Maqx March 25, 2019

Does Wireless Charging work with Samsung S10plus?
---------------
Re: This is a wireless earphone, but it works with any Android phone with Bluetooth.

Help

By Toby March 22, 2019

What does Google voice mean?
---------------
Re: All Android phones support Google Voice, the wireless earphone can work like normal bluetooth earphone, to use Google Voice function.

March 23 2019

By Toby March 21, 2019

Can I say call my dad and it will call my dad and talk back to me in english?
---------------
Re: No, it doesn't support English Voice assistant, but you can use Google voice calling service via Freebuds 2 pro.


Google Voice assistant

By Nico March 21, 2019

They work with any phone but, do they work with french language ? Thanks.
----------------
Re: It can work with Google voice.

Ship to UK

By MS March 18, 2019

How long to ship to the UK?
----------------
Re: 8-12 days via Post Air Mail, 6-8 days via DHL.

How much time will it take to ship to Switzerland?

By Boo March 15, 2019

How much time will it take to ship to Switzerland?
-----------------------
Re: 10-15 days via Post Air Mail, 6-8 days via DHL.

Voice function

By Mick March 12, 2019

Does the voice function support English?
Is there a lag when watching YouTube/Netflix or videos?
----------------
Re: The voice function only support Chinese. No lag for listening on Youtube.

Freebuds 2 Pro

By Aki March 07, 2019

Hello is the white Freebuds also Pro version?
------------
Re: Yes, the pro version has black and white options.