Huawei Amazfit T-Rex Review
Posted in

Yesterday, the 2020 Consumer Electronics Show in Las Vegas officially opened. Huami Technology also held a global launch on the theme of "Leaping Over Limits" at the CES 2020 show on January 8, Beijing time, and launched a number of new products, including the new line of outdoor smartwatches, Amazfit PowerBuds and Amazfit T-Rex.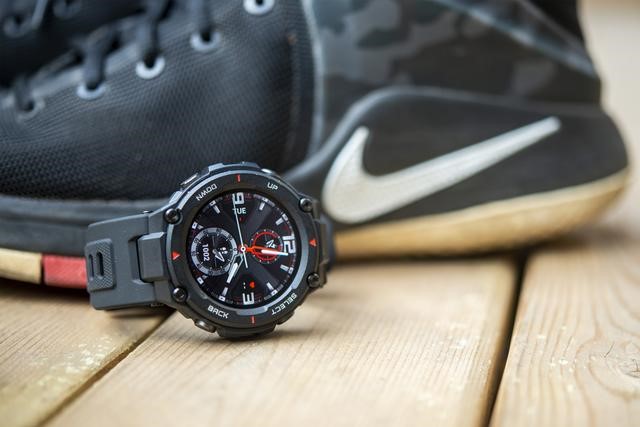 In fact, before the internet has revealed a lot of information, and now, we finally have to see the real body, the appearance of the most eye-catching is its 1.3-inch AMOLED color screen. The display of the screen is also important for sportspeople who regularly use their watches outdoors, and the Amazfit T-Rex features a 1.3-inch AMOLED color screen that provides a full-day screen display with key information visible. And Huami will offer a number of beautiful dials to choose from, highlighting your personality, and said that the future of the watch shop style will continue to be updated.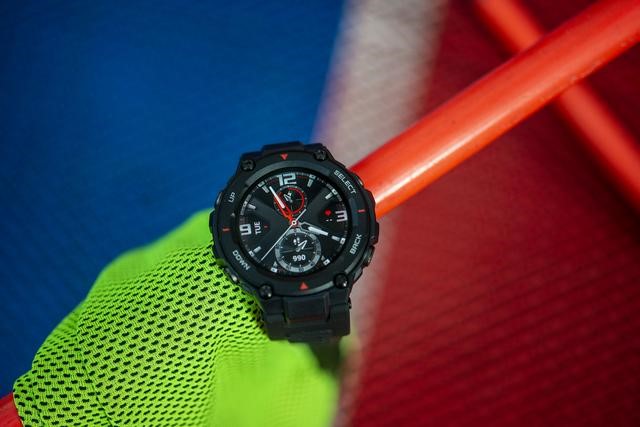 The Amazfit T-Rex watch is primarily aimed at outdoor sports people, so the overall styling is rigid, well-defined, with an enhanced design of the figure details and internal structure, giving the Amazfit T-Rex a sense of strength and practicality. At the launch, Huami Technology also said that the Amazfit T-Rex will have five color schemes, namely rock black, khaki, gun ash, military green and camouflage color, suitable for all kinds of people to wear.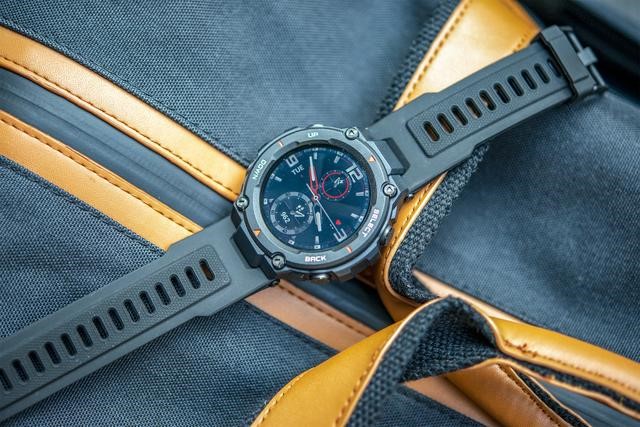 The Amazfit T-Rex bezel is equipped with shock-absorbing tentacles, which are raised outside the table, effectively shock-absorbing and protecting critical devices, large keys with metal buttons, etching metal, and can quickly find the operating position in outdoor environments, and the outer bezel uses a precision ink filling process, with metal screws, and is well-hierarchical. Amazfit T-Rex is equipped with a fermentable silicone strap, a silicone strap with skin comfort and an inner sweat guide design that keeps it dry and non-sticky.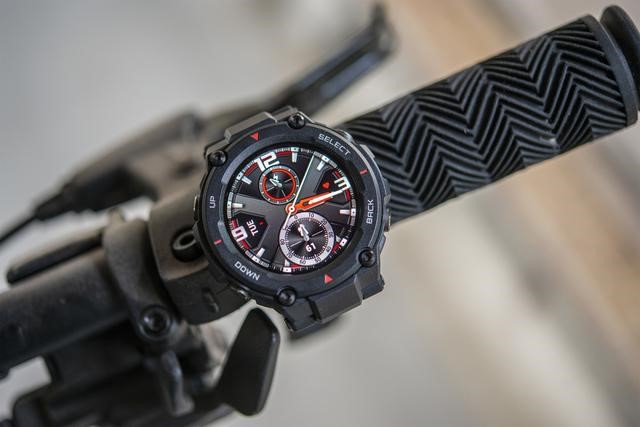 The reliability of the product is particularly important for outdoor watches, with Huami Technology saying that in order to work properly in harsh environments, Amazfit T-Rex has passed 12 MIL-STD-810G military standards, including 70 degrees' Celsius heat resistance testing, minus 40 degrees' Celsius cold test, 240 small When wet and hot tests, 96-hour hydrochloric acid-base tests, and more, are tough and resilient, whether it's the snowy mountains of the highlands or the tropical jungles.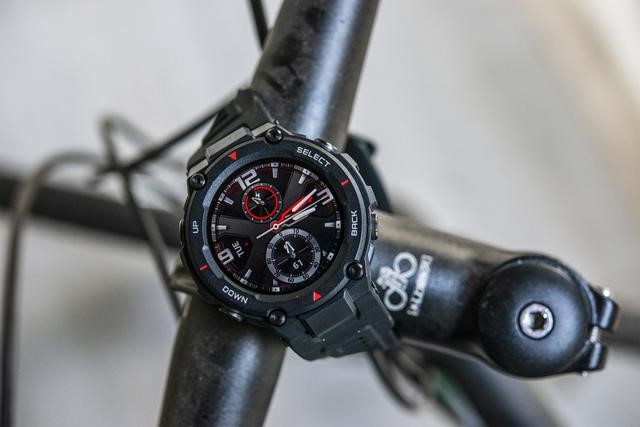 In addition, for the safety of outdoor sports people, the Amazfit T-Rex is equipped with high-end Sony GPS chip, built-in dual-star precision positioning system, and for the surface size, internal structure, and even wearing the arm to signal interference are deeply optimized, signal efficiency greatly improved, search star fast, positioning accurate, Meet the positioning needs of urban buildings and canyon wilderness.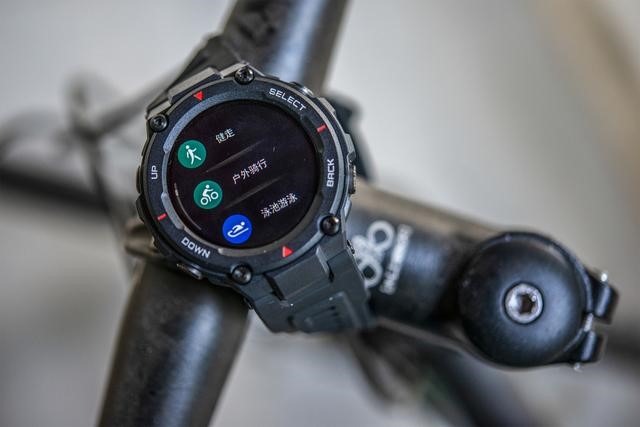 Waterproofing is certainly essential for sports watches, with the Amazfit T-Rex being waterproof at 5ATM and supporting swimming in swimming pools and open water to meet the needs of the sports crowd.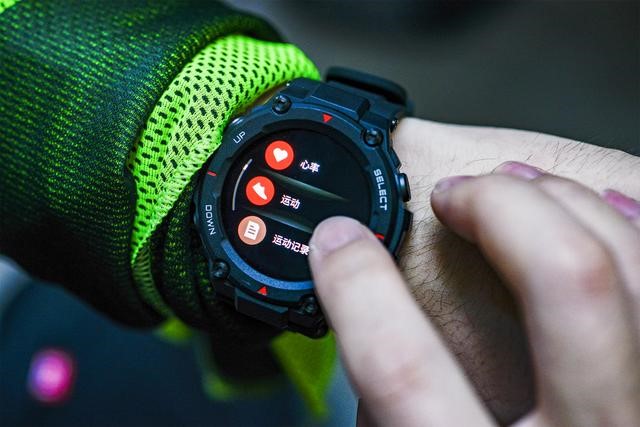 In addition, the watch can also monitor the movement heart rate, statistics of exercise duration and other data, can make the user's movement more safe and efficient. The Amazfit T-Rex is equipped with Humi's self-developed Bio Tracker PPG bio-tracking optical sensor for daily, 24-hour, high-precision heart rate monitoring. More water reminders and sedentary reminders, to stimulate the development of healthy habits.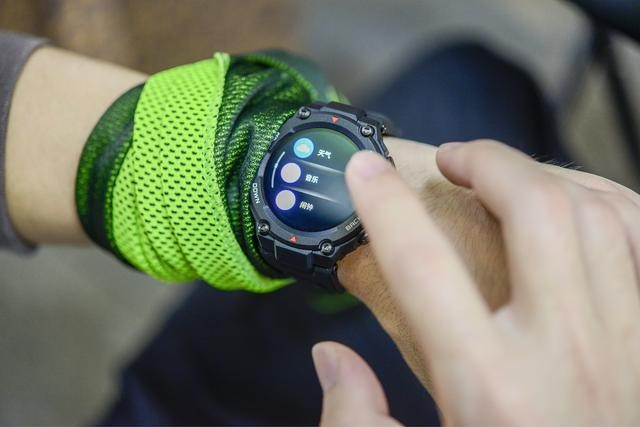 At the same time, Amazfit T-Rex also has a wealth of intelligent features, view the weather, call alerts, SMS reminders, mobile payment, and more, a variety of practical tools to facilitate your daily work life.
Plus, Amazfit T-Rex has 14 professional sports modes built in, including outdoor running, walking, outdoor cycling, indoor running, mountaineering, cross-country running, outdoor hiking, indoor cycling, elliptical machine, free training, pool swimming, skiing, open water swimming, triathlon.
For outdoor sports, the continued battery of the watch is certainly not to be overlooked, with the Amazfit T-Rex featuring advanced low-power chips, a newly designed circuit, deep-dive power management and optimization that gives the Amazfit T-Rex a long-lasting performance. Open heart rate, sleep monitoring, 150 messages per day push the bright screen, lift your wrist stakes 30 times, and other operations for 5 minutes, exercise 3 times a week, and last 20 days in daily usage mode with 30 minutes of GPS running on each time. It lasts 66 days in Bluetooth connectivity and other feature-based watch mode.
0 customer responses