Lenovo Thinkbook Plus Review | a Computer That Changes Face
Posted in
Five years ago, the Louvre held an exhibition of his work, one of which was dedicated to all the drafts behind his work, documenting the whole process of the works from scratch.
It reminds me of my math teacher in high school. He has very high demands on our drafts, and even puts the draft paper on every exam, one by one. Because he thinks that the draft is the best reflection of people's thinking.
The good habit of drafting is that Even after I work, I've kept it, but not on the computer. Because I think paper and pen are more inspiring than keyboards and screens.
Today, however, the draft is still a draft, but the paper and pen are not the paper and pen of the original.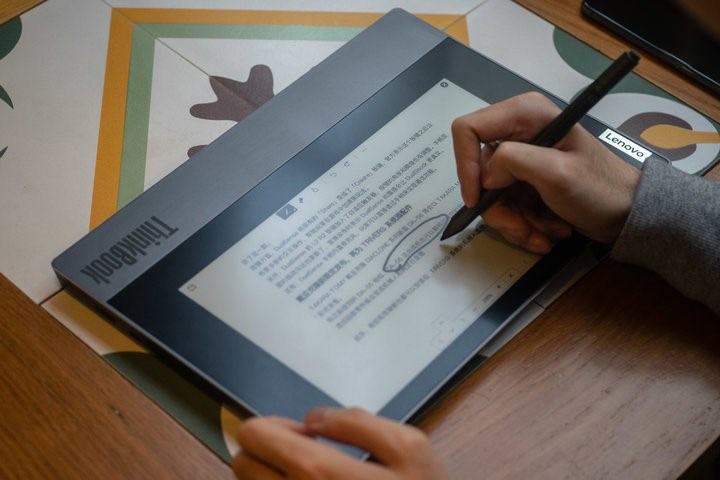 Side a Becomes Its Most Variable Side
Opening the package at first glance is the most different place from this computer is the A-side.
Without a glowing logo or colorful breathing lights, Lenovo has a more functional electronic ink screen stuffed into the ThinkBook Plus A. This 10.8-inch electronic ink screen supports 4096-class pressure.
The ThinkBook Plus also comes with the Lenovo Precision Pen, which has always been exclusive, to make this electronic ink screen more practical. It can be adsorbed to the left and right sides of the screen when you don't need to use it, and you can write it if you need to take it straight away when you need to use it.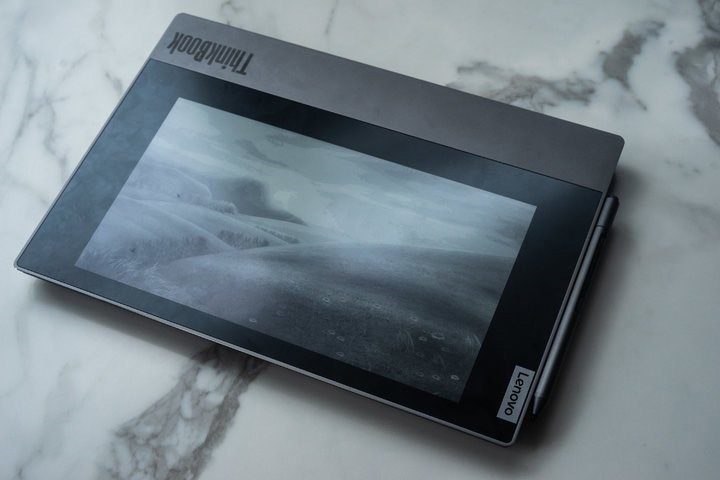 As for the actual experience of this ink screen, we continue to talk below.
In other ways, the ThinkBook Plus as a whole continues the business style of the ThinkBook series, but the addition of a self-titled ink screen has added a touch of personality and fashion to the computer.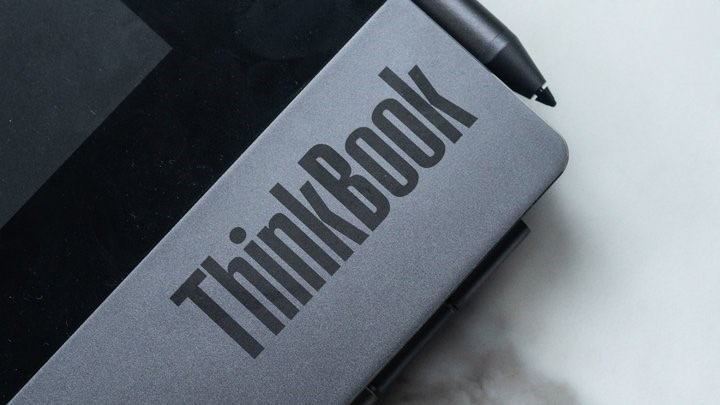 ThinkBook Plus's B-side home screen is a 13.3-inch wide-view HD screen that supports Dolby Vision and 100% sRGB.
Although the use of A, B-sided dual-screen design, but the thickness of the screen is not as thick as imagined, still belongs to the normal level, the overall thickness is only 17.4mm.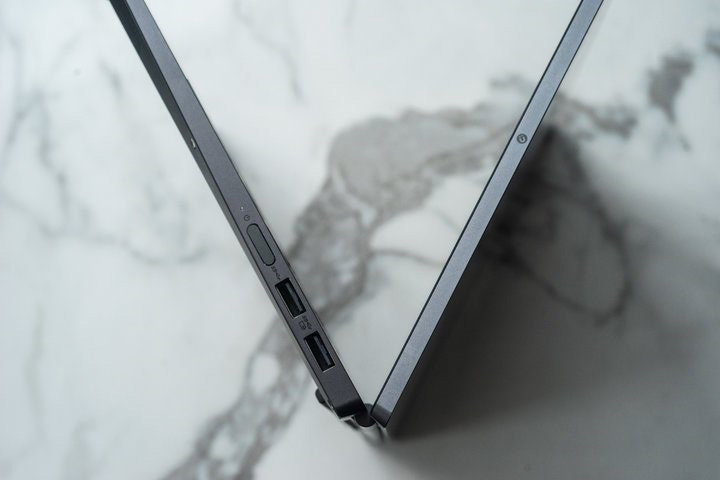 On the keyboard side, the ThinkBook Plus has a classic island design that continues the tradition of the ThinkBook series, both in keystrokes and in feedback.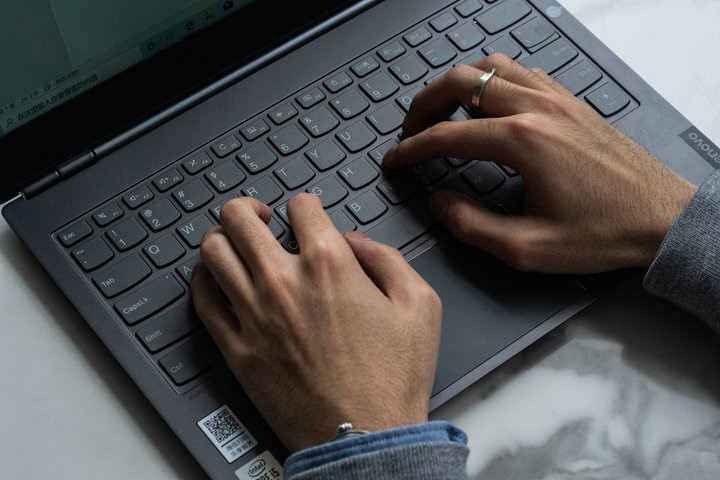 The right side of the body is equipped with a power switch with fingerprint recognition and 2 USB 3.0 connectors.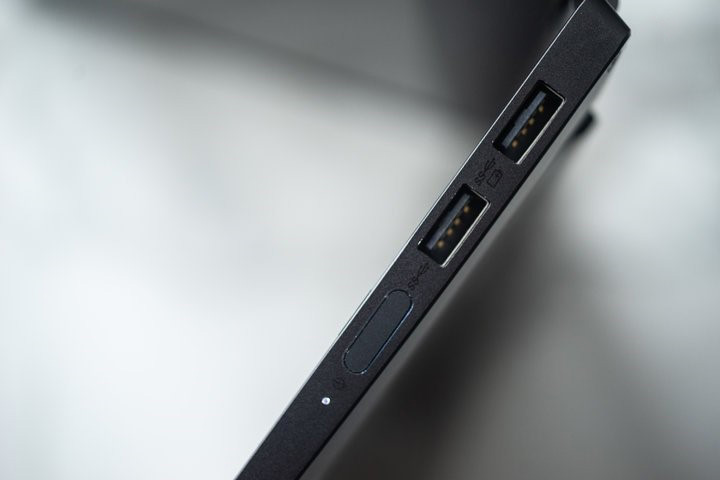 On the left is equipped with 1 USB-C support for 65W PD fast charging, 1 HDMi, and 1 3.5mm headphone connector. Overall, it can be said that the most commonly used interfaces are matched.
Think and Write on the Book
The love of one more screen is more productive, with almost a monitor in the office. But how much productivity does this "parasitic" ink screen on ThinkBook Plus bring? To be honest, I was skeptical at first.
Of course, the essence of human beings is "true scent", and After a period of time using ThinkBook Plus as the main machine, I was beaten in the face again.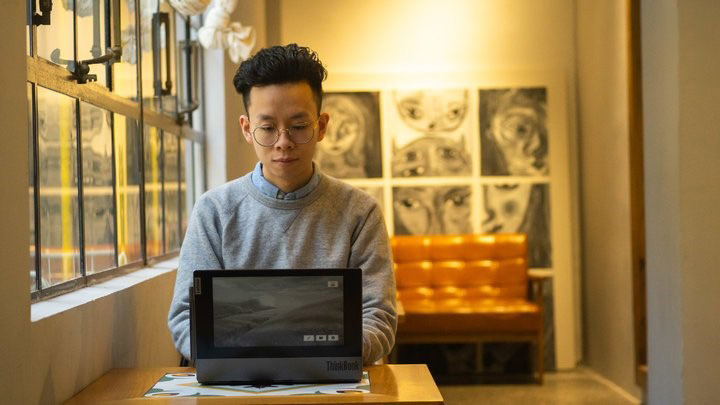 In addition to writing, my current job will also be involved in the production of some video scripts, as well as the output of video ideas.
Unlike the previous work of simply writing, in the production of scripts, I found it difficult to express itself in simple words, and paper and pen can inspire me more. In addition, sometimes the flash of ideas, not immediately recorded down, will soon disappear from your mind.
For me, the greatest value of this ink screen on ThinkBook Plus is that.
In the early stages of writing a script, I'll start by sketching a draft of each shot from the ink screen of ThinkBook Plus. Without flipping the lid, the pen-and-write stouste ensures that I can record the fleeting flash in my mind as fast as I can.
The 10.8-inch screen is enough for me to draw 8 shots.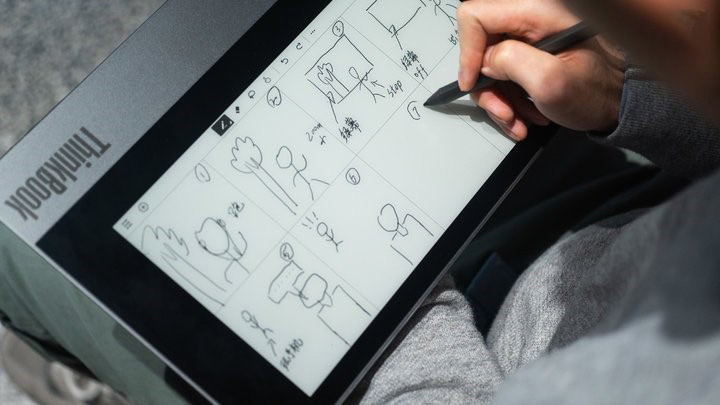 Compared to traditional paper and pen, the biggest advantage of electronic notes is obviously the easier to save and transfer, which is no exception in ThinkBook Plus, and even faster.
On the ink screen, I can view and edit all the notes I saved in the past directly. After i.e. i can choose to save it to my desktop in a picture format, then open the screen and look directly at the picture for more detailed scripting.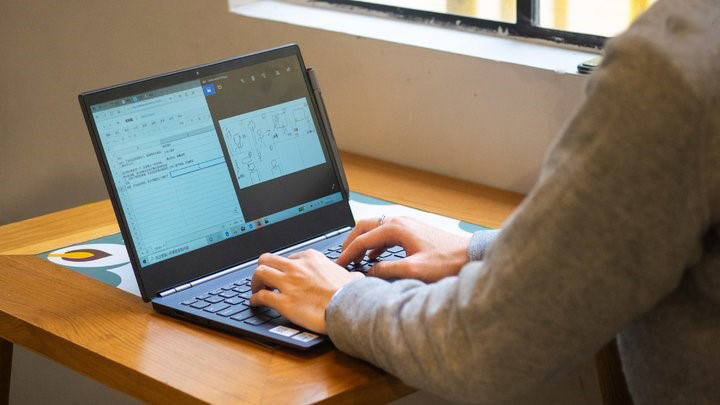 At the stage of producing creative scripts, we encourage mutual criticism within. So our project team members need to evaluate each other's ideas.
After using ThinkBook Plus, I can see other colleagues' documents directly from the ink screen, and where I need advice, I can comment on it directly with a pen for a glance.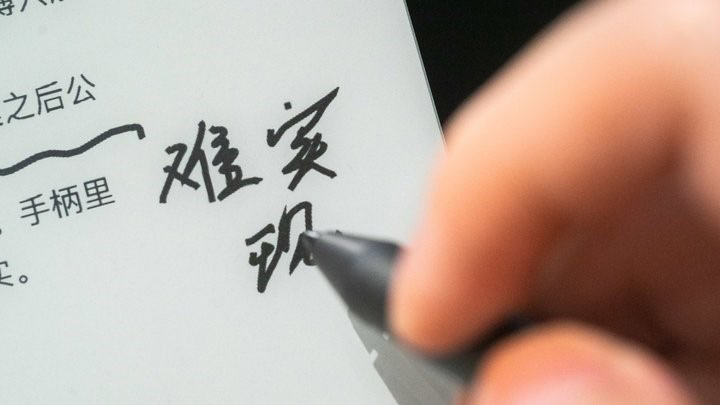 When the screen is closed and you don't need to use this ink screen, it also displays calendar, weather, mail, and more, a bit like the AOD feature on an OLED screen phone.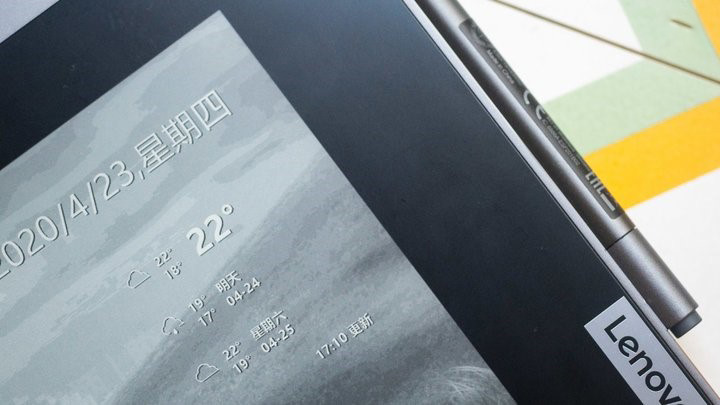 Plus, this ink screen on ThinkBook Plus displays custom pictures when on standby, allowing you to personalize your A-side.
Of course, such an interesting feature, in my hands how can only be used to show landscape photos? Usually I, is this with this function: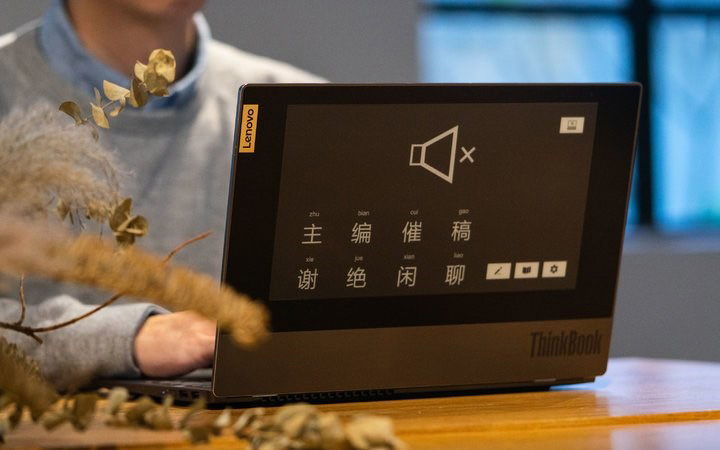 Cut a Small Video, or Can Do
ThinkBook Plus is powered by Intel's 10th generation processor, the i5-10210U. On the storage side, ThinkBook Plus features DDR4 8/16BG memory and a 256GB/512GB hard drive with the M.2 PCIE interface.
The only pity in the configuration is that there is no independent graphics card, of course, this is also a positive and bad choice. The advantage is that weight and thickness can be controlled, and there is a certain increase for battery life. And the downside is, of course, that it's limited in the amount of work it can do.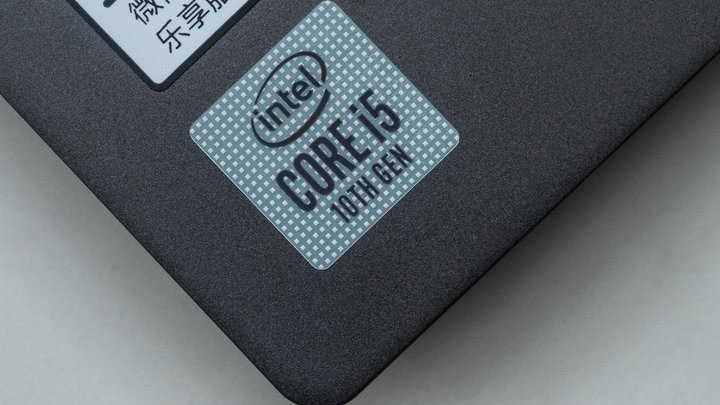 So for this computer, text entry, making forms, designing PPT and other more business-oriented work content will be more suitable.
But I actually tested it, and with ThinkBook Plus to do some simple posters with few layers, or simply edit small videos like quivering, WeChat video numbers, ThinkBook Plus is still up to the task.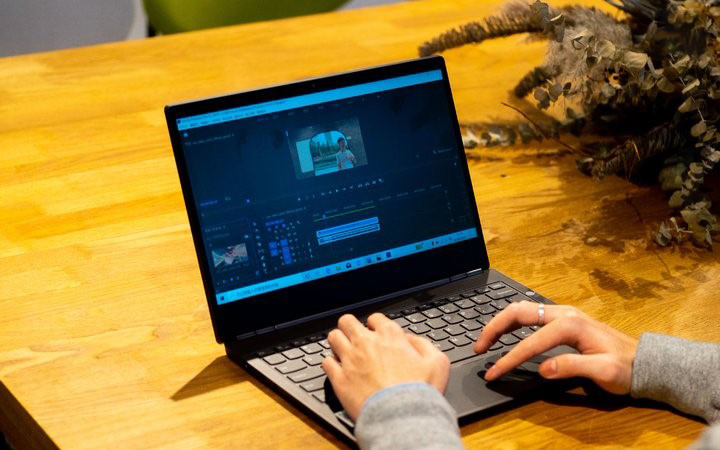 Many 2-In-1 Products Are No Larger Than 2, Except Thinkbook Plus
I remember that five or six years ago, there were many two-in-one or even three-in-one products on the market, and then the word "smart" was given. In fact, these products are a combination of two products that are not the same as the wind and horse, such as in a notebook (to write that kind) stuffed into the charging treasure.
These products are not smart, or even "stupid". After all, the actual use of 1 to 1 is even less than 2.
But there are exceptions, such as washing machines, such as broom-sweeping robots, and, for example, the ThinkBook Plus in our hands.
The ink screen on the ThinkBook Plus A surface, clear display, and sensitive writing, allow me to hold a pen to record my inspiration. And as a notebook, it's also normal, without any sacrifice due to the addition of ink screens.
Not everyone may be interested in such a product, but if you're like me, you have a need to organize ideas and document your inspiration anytime, anywhere, and it's a good choice.
0 customer responses