Lenovo small New Air notebook review: expected to have a good price/performance ratio of products
Posted in
Laptops in my eyes, a very, very traditional category, the manufacturer's update is almost all with the processor to upgrade, but the product function and form of evolution is quite slow, this time I did not expect what we are getting now and our fan readers havemuch interest in the notebook, is actually more intense than I thought.
There hasn't been much fun lately, some time ago I took a Lenovo small new Air notebook to play with. And used this for a half month, I found that in fact, this product provides the experience beyond my expectations of this price.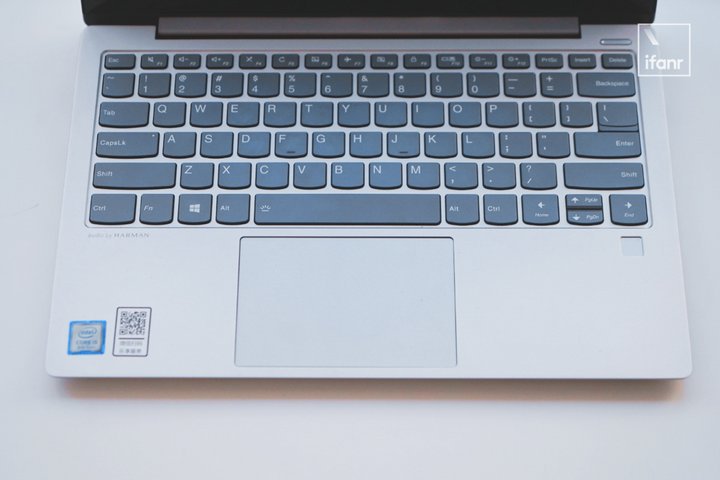 During this time, I spent about 80% of my time working with this Lenovo Xiaoxin Air. Of course, there are a lot of uncomfortable places to use. For example, there is no GIF animation tool like Brewery GIF 3 that leads to a certain kind of tool. These conditions are very painful, but this is more of a Windows or application ecological flaw.
Back to Lenovo Xiao New Air, this is a narrow-border 13.3-inch lightweight notebook, in fact, this notebook is really quite compact and lightweight, not only two laps smaller than my own early Mabook Pro 13, even more compact than the 2018 new model.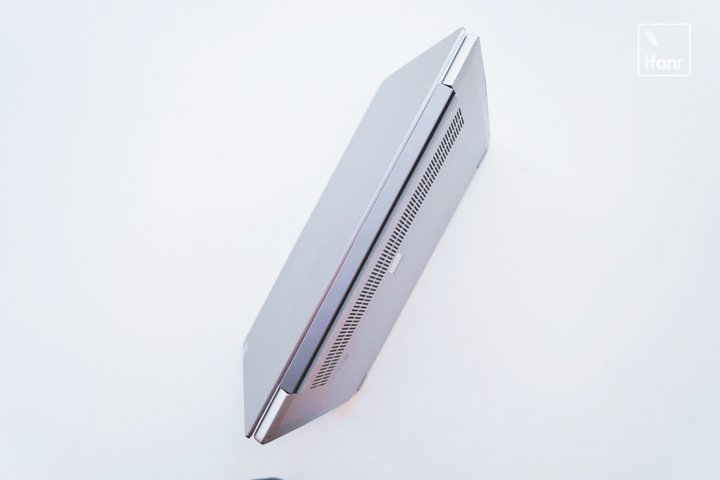 From the Lenovo's official data is 14.8 mm thickness, but this thickness refers to the thinnest place, because of the trapezoidal design, so far away from the shaft side of the thinner. The weight of 1.25kg is also easy to pick up in one hand, and in terms of portability, I think it's a better product to do recently.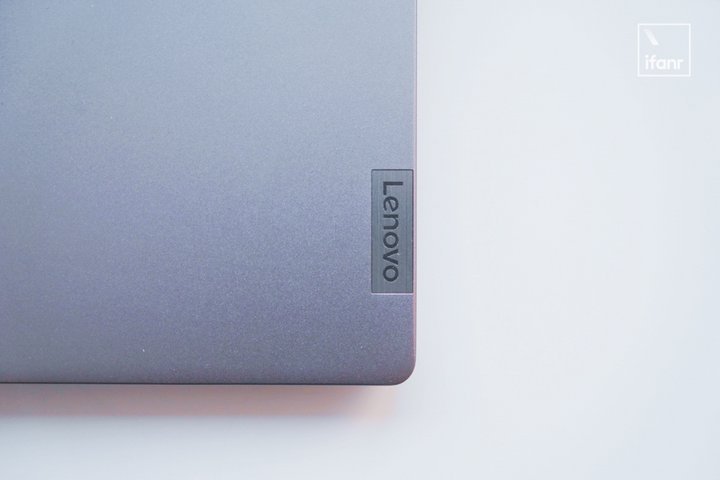 I got this "light luxury gray" version with color matching. The texture is good but the color is more common, so it is generally a kind of feeling that is not out of the way, but it is also a touch and the delicateness of the matte. It won't make you feel cheap, and the overall work feels very solid. There is a Lenovo logo on the edge of the A side.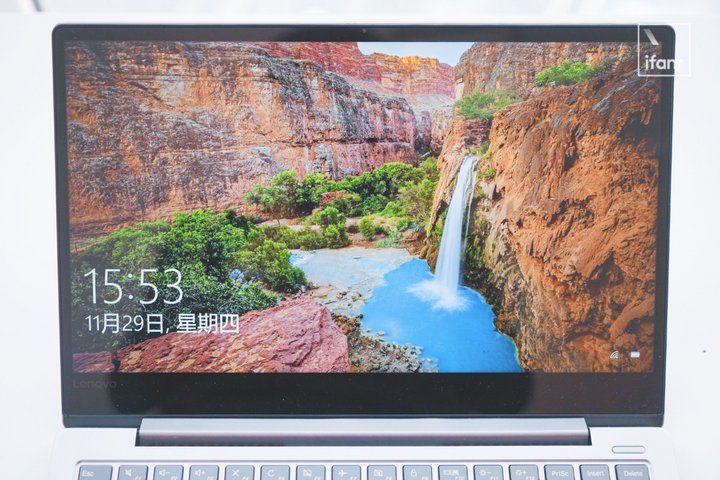 Screen aspect ratio of small new Air is full of 1920x1080 screens, 100% SRGB gamut, three narrow border design, does not support touch function. Narrow border a bit of Dell XPS series feel, but sometimes this narrow border gives people the feeling is not broad vision, but the overall small, may be related to the proportion of 16:9, to tell the truth or Surface Laptop this 3:2 screen ratio is more comfortable.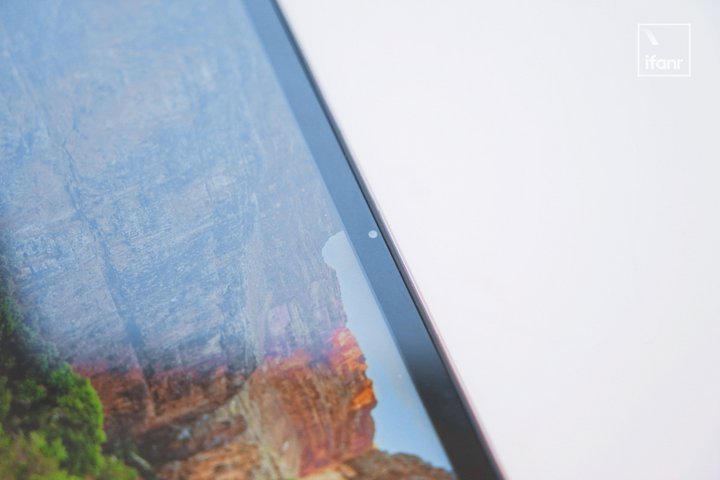 Although the three-sided border is very narrow, but the product does not put the camera below, but still put on the top, it is worth mentioning that Lenovo small new Air 13 uses a full-screen covered tempered glass, so that the B face is stronger, in addition to the mirror screen effect is good, color on my hand this whole slightly colder, In addition in the brightness is more modest, the level of 300nits in the strong light slightly less.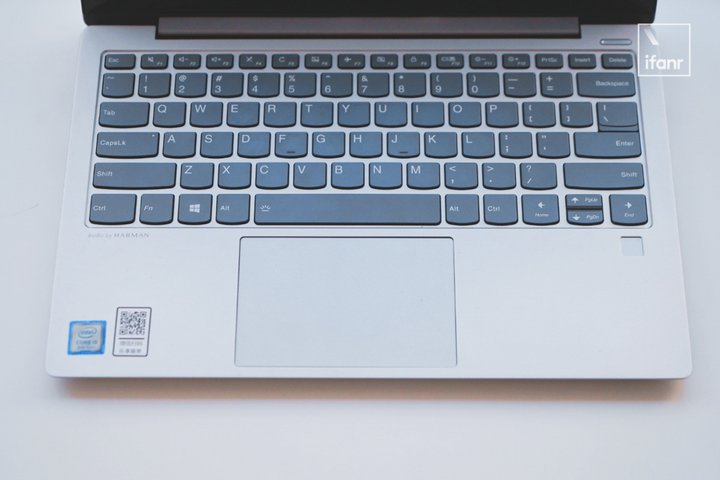 The touchpad is a surprise for Xiaoxin Air. The glass trackpad is very smooth. It is already a good level in the notebook I have tried, and the feel of pressing is also very good. The keyboard keystrokes are normal, the tapping feel is quite satisfactory, and the floating island keyboard feels good, but the left and right arrow keys make me a little uncomfortable, and the design on the Enter key is slightly strange.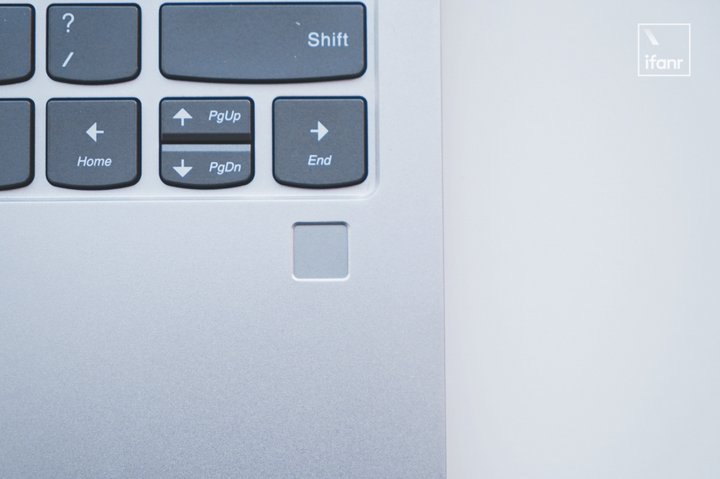 Fingerprint recognition module in the small new Air 13 is also not absent, just below the arrow keys, using a square identification area, the overall feeling is much like fingerprint recognition on the phone, now support fingerprint recognition notebook more and more.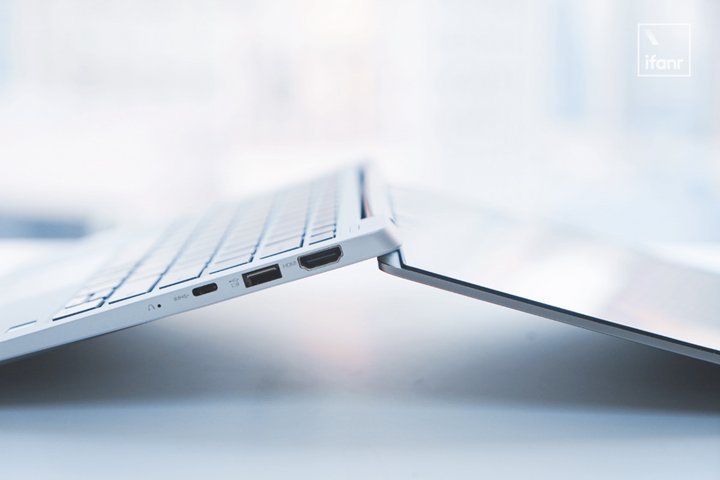 A more interesting place is that Lenovo small new Air shaft can support more than 180° of the opening and closing, but must be careful not to support the one-level flip, do not come up hard break accidentally broken, of course, this more than 180° opening and closing angle is not particularly useful and use scenes.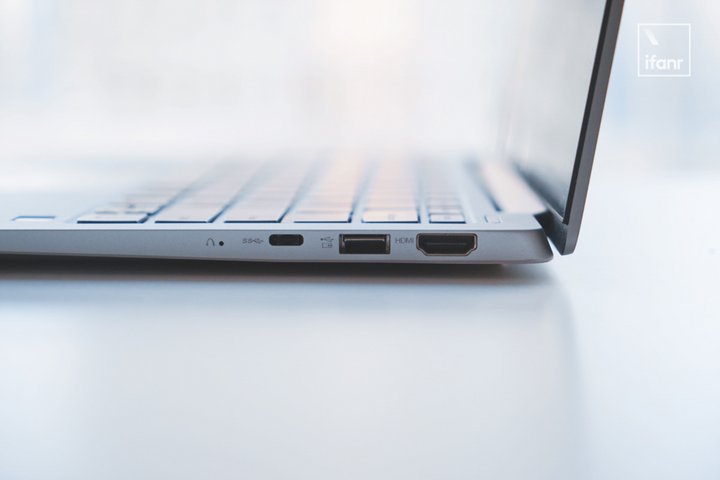 As for the interface, Lenovo small new Air interface is relatively complete, not only HDMI interface, left and right also have two usb-a interface, used to ensure the compatibility of peripheral expansion, in addition to a USB-C interface to and the latest trend in line.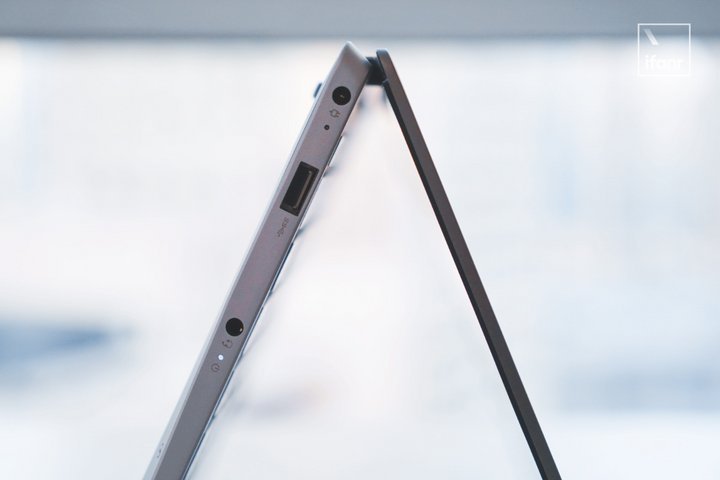 However, it is very regrettable that this product does not have SD card slot, I have a few times in use to forget that there is no card slot things to temporarily borrow card reader situation, if it is the SD card slot requirements of friends I think it may be prudent to consider, or the best you have been used to bringing a multi-oneness card reader.
It is worth mentioning that this usb-c interface is not a pure transmission of data interface, but also support DP 1.2, can output external 4K screen, and then enable HDMI can also output a 4K screen.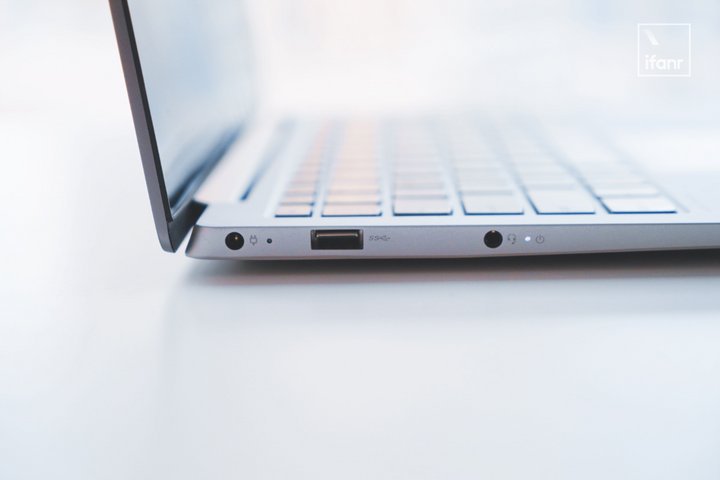 But on the other hand, this usb-c interface cannot be used to charge, Lenovo small new Air or the use of conventional round port DC power supply, the size of the adapter is naturally more conventional, which is a relatively regrettable place, after all, with Lenovo's Thinkplus portable 65W power supply should be fully able to meet the charging needs.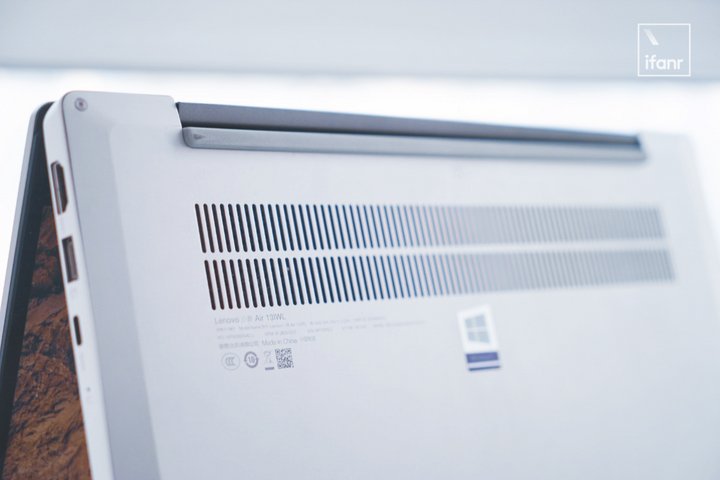 In terms of configuration specifications, Lenovo small new Air offers a combination of I7-8565U/512GB SSD/16GB LPDDR3/GeForce MX150, which is definitely more than enough to meet daily needs, and this configuration is only 7299 yuan, Basically in the same configuration the price belongs to very low pressure.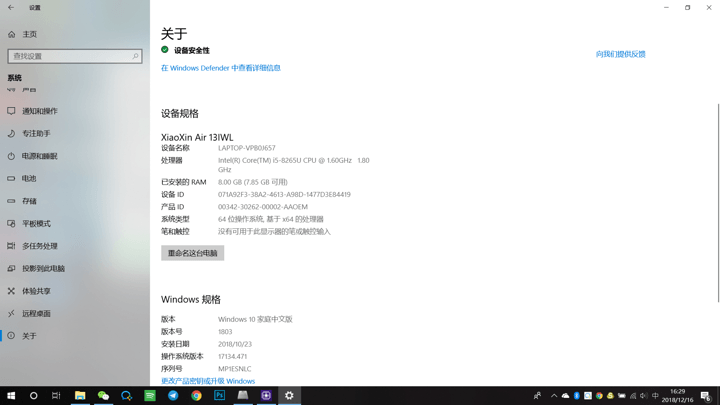 But this one on my hand is not top, but I5-8265U/512GB SSD/8GB LPDDR3/MX150 's medium and high matching version, in the absence of multi-installed software, the daily use of speed is still very fast, I routinely use Chrome not only a lot of tabs, expansion plug-ins are also more, Although the memory is only 8GB, there is basically no sense of slow response. If you're not sure, you can add another memory yourself.
In fact, put aside the price to talk about products more or less are a bit of a hooliganism, even if Lenovo this small new Air is not the Windows camp's benchmark products, but with its market and configuration of low enough prices and seemingly more solid workmanship, at least I think it is still comfortable to use.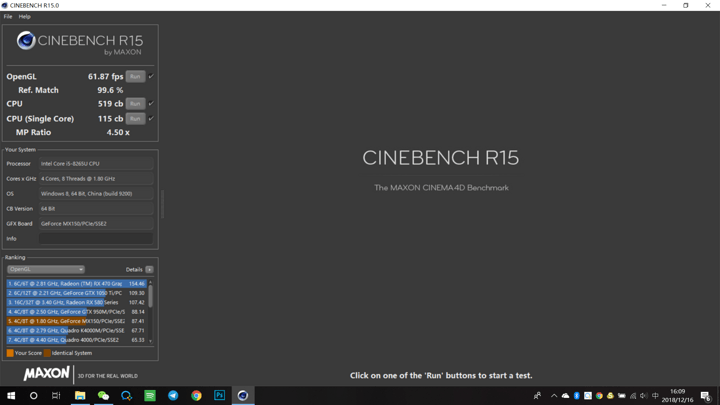 Performance aspect is worth saying is not much, generally is to take CR15 and so on run a run to see, this single core ran 115 points, multi-core ran 519 points, this score slightly low, normal performance should still be higher. OpenGL score is 61.87 fps.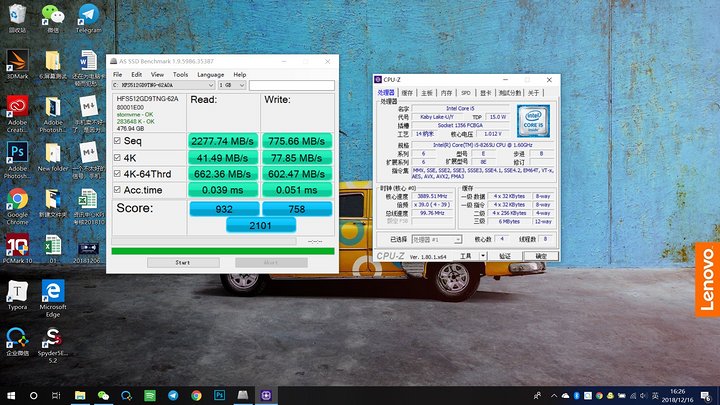 The storage performance is more commendable, using the Helix SSD, capacity of 512GB, because the support of the NVME protocol so the performance is brighter, read faster than 2000MB/s, write floating, sometimes more than 1000MB/s, but the figure is more than 800 MB/s, This performance is helpful for overall fluency as well as the speed of the whole machine's response.
The level of life is the weak place of this product, the use of 45Wh battery, the official duration of 8 hours, obviously you all know that the highest brightness of the use of basically the same level of service to fold, a little bit of use of the words will probably be about 5 hours of life level.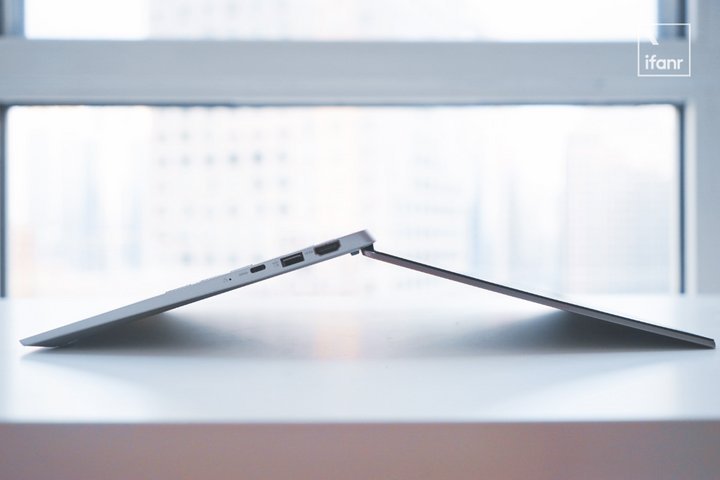 Although recently talked about notebooks may I focus more on Apple's MacBook Pro or Microsoft Surface series such as benchmark products, but the entry level above a cheap product, I am not quite sure that the current students are not the budget has been improved, but this configuration under 5799 The price of a dollar can definitely be recommended for students or young people who have just worked.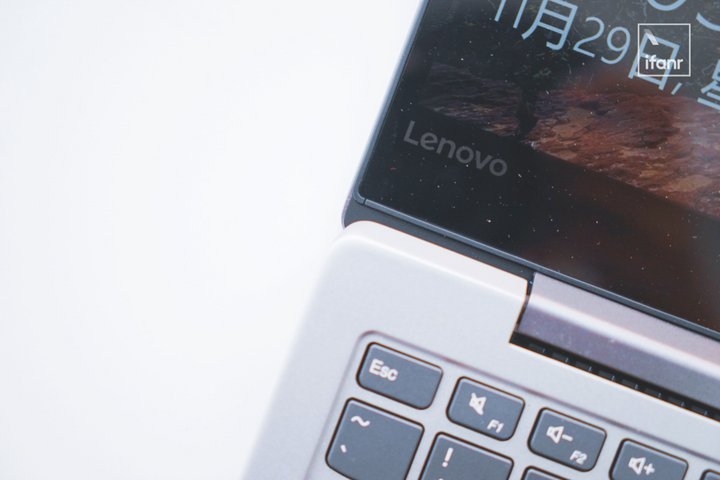 But finally I would like to mention, Lenovo now the small new series to promote IP, the introduction of a number of "small new" name of the product, on the one hand easy to remember and catchy, on the other hand, it does appear a bit low-end feeling. But sometimes it is such a humble product line, in fact, also hidden cheap products.
0 customer responses