Huawei MatePad Pro Review: Why Do You Make the First Mate Series Tablet?
Posted in
The phone has the Mate series, the laptop has the MateBook series, in the digital products of the three pieces, only the tablet, Huawei has not yet used the mate title.
In fact, Huawei has previously produced several tablets, but has always been named "M-numbers". But at today's launch, Huawei finally released a tablet named after Mate, the MatePad Pro.
So what makes this new product the first tablet to be included in Huawei's top-end flagship series, named Mate?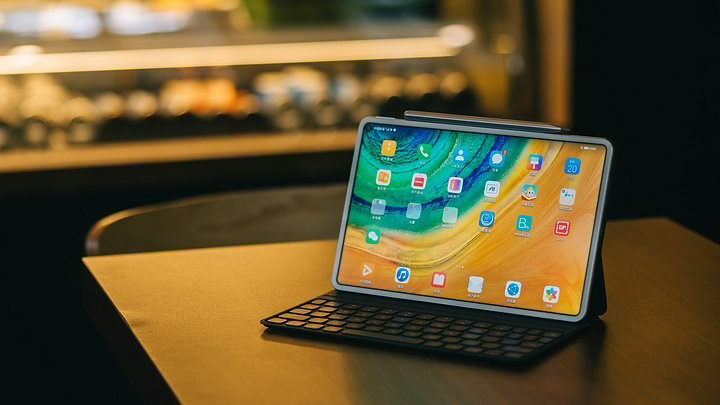 The order and beauty brought about by the four sides and so on
The architect, Mr Leung Sicheng, once said:
No matter the East, the West, no other nation on the axis of symmetry so much love and adherence.
The Chinese nation's preference for symmetry and order can almost run through the five thousand years of history, while the order comes from Square, from unity.
The front of the HUAWEI MatePad Pro is a 10.8-inch 16:10 2K full screen. The hole-in-the-hole design, combined with a 4.9mm bezel, makes the MatePad Pro up to 90% of the screen.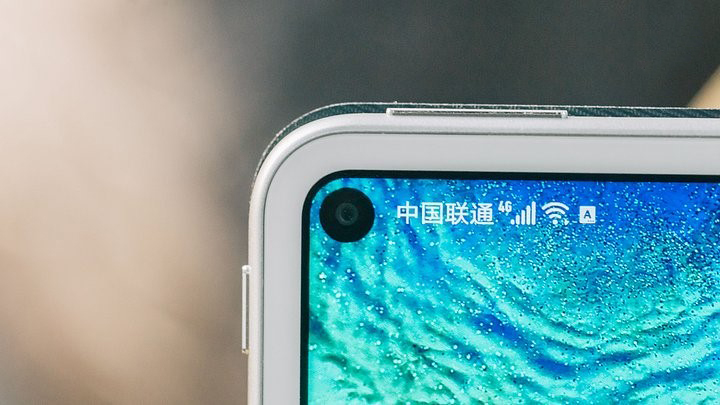 Of course, the biggest highlight of this design is the four-sided wide border. The hole-digging screen and COF process allow the forehead and chin to disappear.
And the sense of order brought about by the uniform width of the four sides also makes the front of the plate look more refined.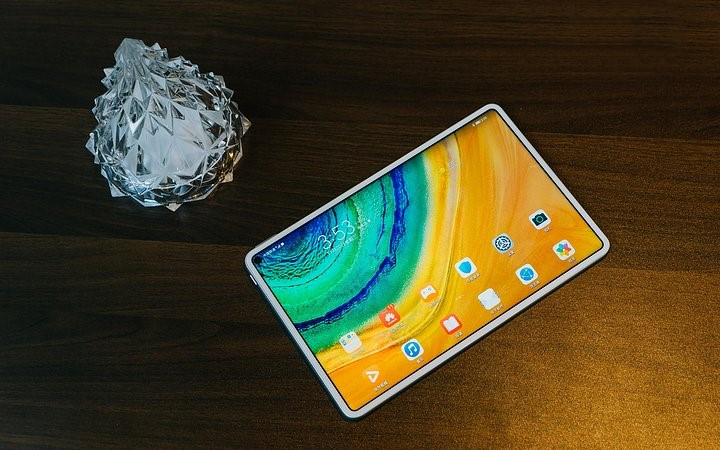 As for the back of the HUAWEI MatePad Pro, there are two materials to choose from: glass fiber and plain skin. And this MatePad Pro on our hands is a glass fiber back shell, which also makes the product tough and lightweight due to its high toughness and light quality.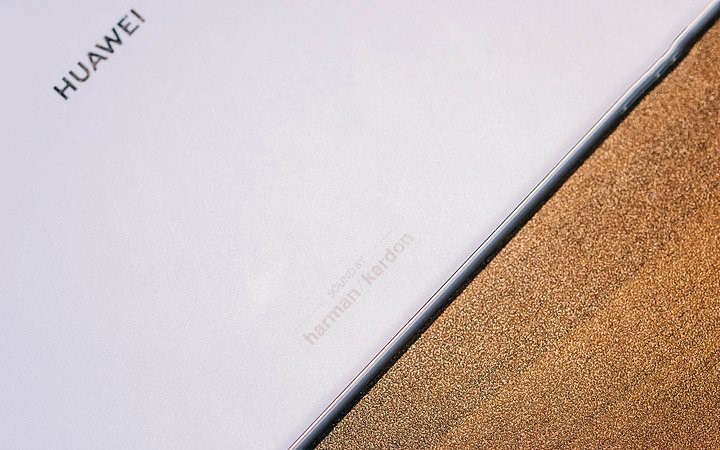 How light is it? How thin?
Although the screen is 10.8 inches, the HUAWEI MatePad Pro weighs only about 460g and is only 7.2mm thick, and is effortless to browse documents and videos in one hand.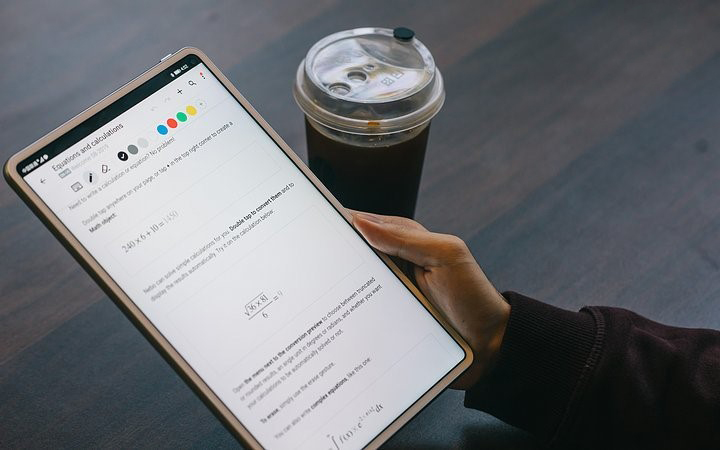 When everyone is writing, what's the difference between HUAWEI M-Pencil?
There's a saying:
If you're looking for an item that's a witness to the history of the creative industries, it's certainly a pencil. Its use is in no domain, can be used to compose music, can also be used to code, can draw sketches, can also design sketches, can write sonnets, can also record novels.
Of course, this is not what the tablet makers say, but what well-known designer Alex Hammond once said.
However, manufacturers know that a pen may be the best option if you want to put productivity on a "buy-after-love" tablet.
So almost every manufacturer wants to add a pen to their tablet products, but most of them will end up with a chicken rib due to hardware and software limitations.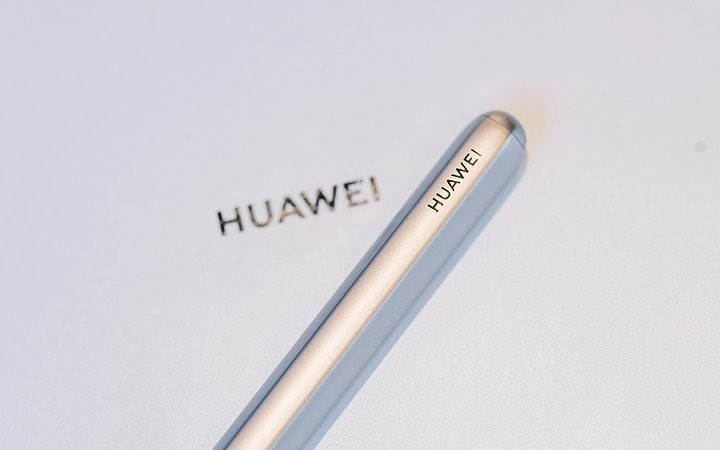 So can this HUAWEI M-Pencil on the MatePad Pro get out of this fate?
Everyone knows that the decision is whether a stylus is good or bad, or whether it can be used, is the prerequisite, is delay, which is commonly known as "not to follow."
From the data point of view, huawei M-Pencil's delay has reached 20ms, which is already in the first of all stylus products. The 0.02-second delay has also entered a widely accepted range.
It's no good, let's look directly at the normal speed and 32 x slow-motion video.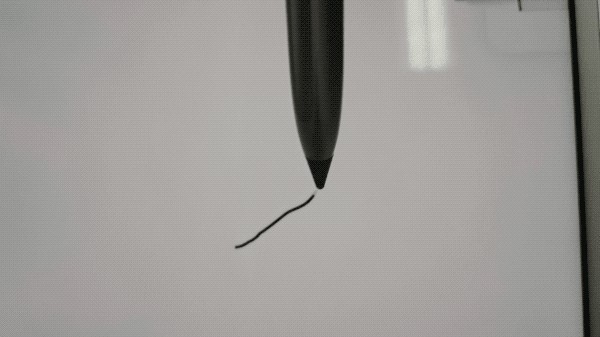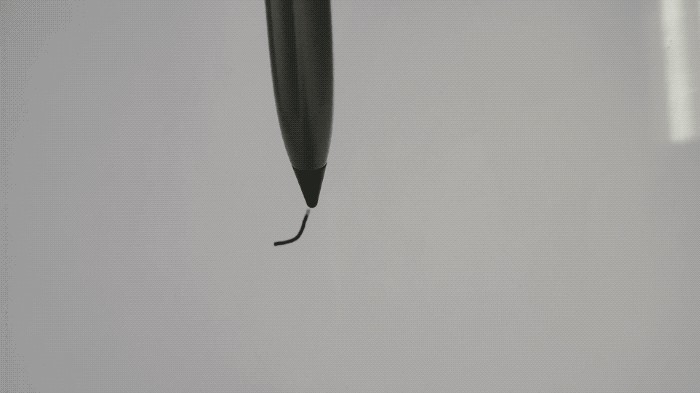 In addition, M-Pencil supports 4096 pressure. This means that with apps that support this feature, such as the design app Concepts, you can draw different stroke sizes based on your press rate, and even support side-front drawings.
We also noticed that Huawei also had a more frictional styling on huawei M-Pencil's tip to enhance friction and better simulate the feeling of real pen and paper writing. Of course, even if the pen set is put on, and the actual writing feeling there is still a lot of gap, but at least will not feel raw, will not be because of the "click" of the writing sound was thrown out of the library.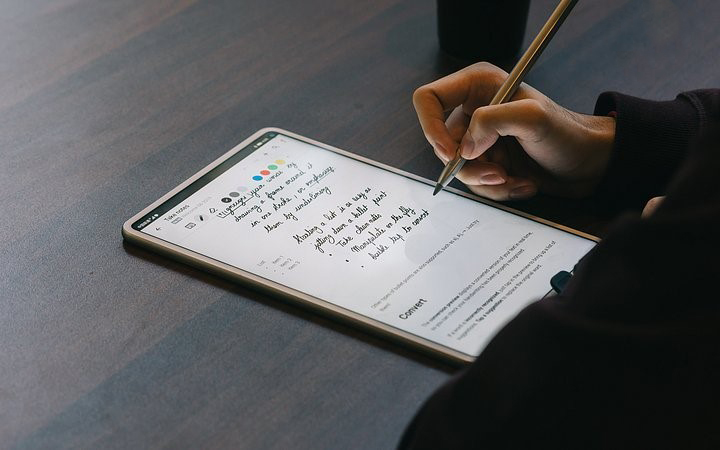 According to Huawei's official data, the pen can be used for users to write 20,000 meters with little wear and tear.
As for the range, according to our tests, using the pen for an hour in a row consumes only about 10% of the electricity, while charging for 30 seconds can take 10 minutes, 1 hour to charge, and the way it is charged is very simple, as long as it is on the edge of the MatePad Pro. Wireless charging is automatic.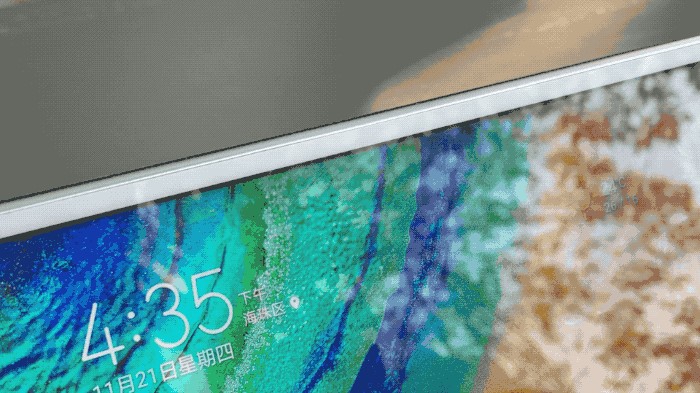 So where are the weapons?
In fact, Huawei has for you to think well, for you to prepare a handwriting application store, you can find a variety of better recommended applications. There are also well-known applications, including sketchBook, a design app from Autodesk, and Nebo and MyScript Calculator, which I've enjoyed since i was in college.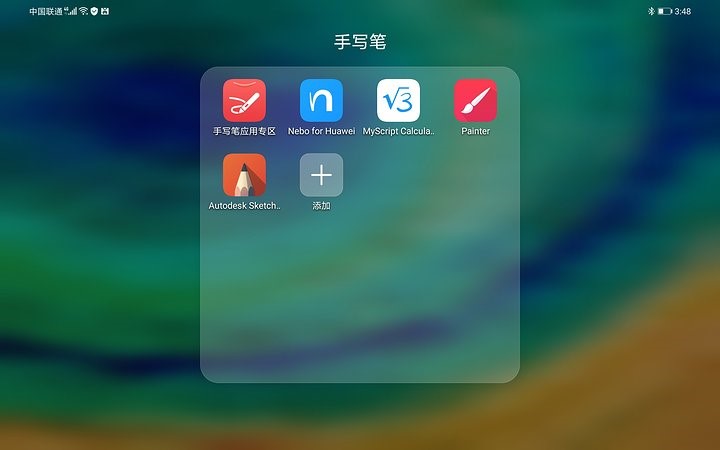 We also used the latter two to have an experience.
The first is the note-type app Nebo, in which you can record notes in two ways, a stylus, a keyboard, and a brain map, and manage and edit your notes in a variety of convenient ways, all in all, it's a fairly powerful note-type app.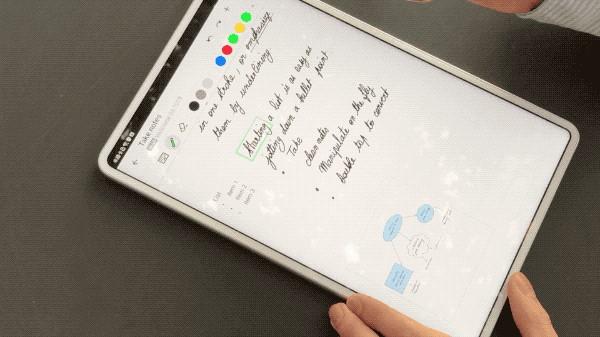 And MyScript Calculator is undoubtedly a science-making artifact, look straight at the picture.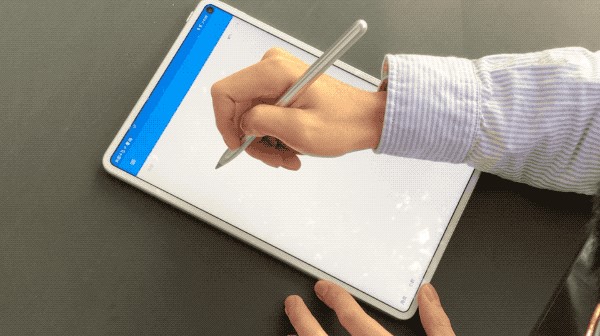 As for how well you're doing on HUAWEI MatePad Pro and HUAWEI M-Pencil? From this experience, I feel that this hardware is fully realized to fully realize the full potential of these apps.
Even HUAWEI M-Pencil has some small features such as "Apply auto-delete" and "Pick up a pen in a lock screen to automatically open the Notes App" to my surprise.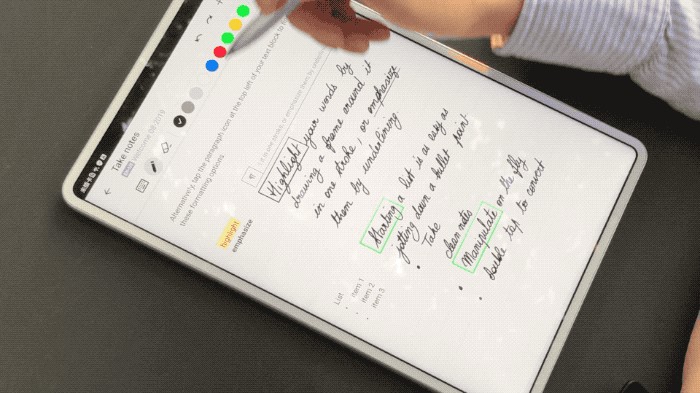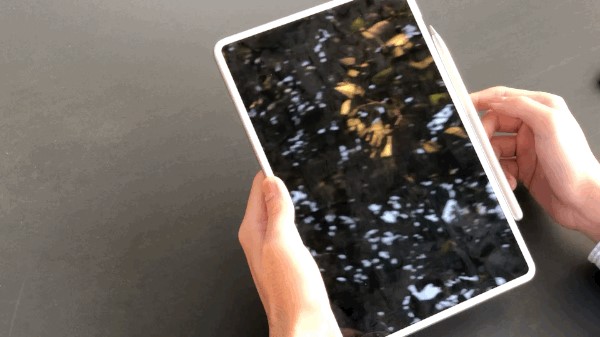 Of course, after the launch of HUAWEI MatePad Pro, we're also looking forward to more well-known note apps that are better adapted and more and better tools. After all, smart devices have developed for so many years, we have learned that hardware upgrades to provide performance support to software, software to extract hardware value, so that hardware to play greater value, is the only way to successful ecology.
Multi-screen collaboration to make things simple and simple
Multi-screen collaboration is Huawei's most recent flagship feature, now including flagship phones, computers, smart screens and other products are equipped with multi-screen collaboration, naturally as the flagship of the tablet HUAWEI MatePad is no less. This feature is even more important for tablets that are more mobile.
Casting screen is not a new technology, but most of the screen projection functions need to be in the two devices of the settings menu click, to complete the cast screen.
Thanks to Huawei's combination of hard and soft ecology, Huawei has made cross-device operation such as screen casting and file transfer much easier. How easy is it? Just touch it.
After putting my phone on a tablet, there are two benefits to me.
The first is to be able to fully focus on the same screen at work, you can pick up phone calls, reply to WeChat and even order takeaway, no longer need to pick up the phone frequently at the same time, will not miss any important information.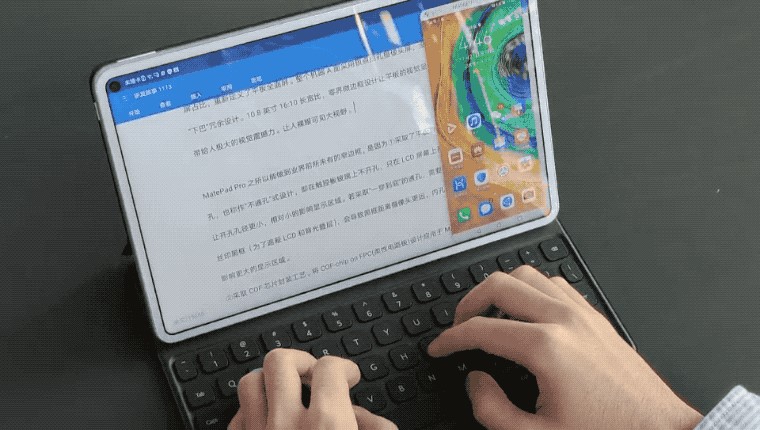 The second is to make it very easy to transfer files. After you put your phone on a tablet, you can easily transfer files back and forth between two devices by dragging them, much easier than through WeChat/QQ file assistant.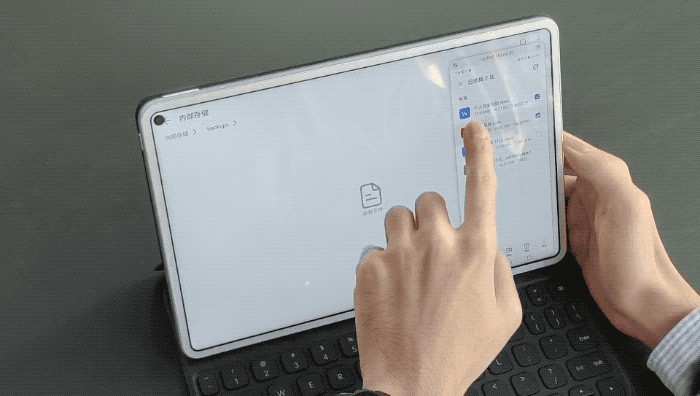 And two killers, let it be a good helper in your office.
If someone tells you, don't buy a computer, buy a tablet directly can be the main machine, then this person can basically judge is not stupid or bad. Of course, the usual work is just to point to Jiangshan, look at the document contract, reply to the mail of the boss except.
Indeed, whether it's hardware or software, tablets are a little bit of a way from being our main productivity tool. But as a lighter device that also provides more use of posture, it's really a great helper for your mobile work.
In this regard, in addition to the HUAWEI M-Pencil and multi-screen collaboration mentioned above, the HUAWEI MatePad Pro actually has two killers.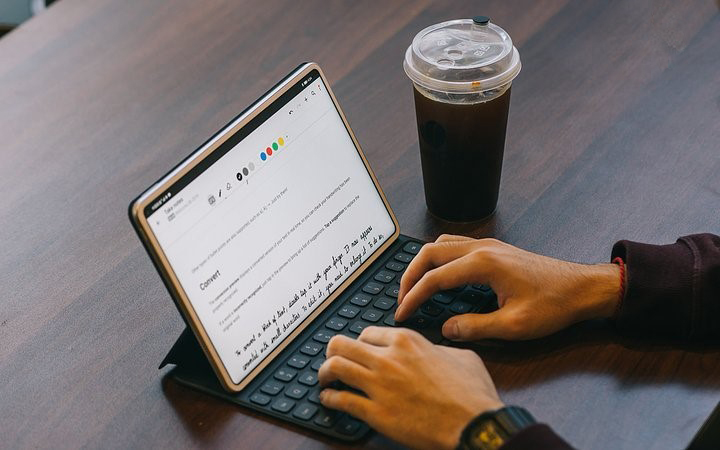 The first is a new WPS that will automatically help you make your slides, released in conjunction with the HUAWEI MatePad Pro.
Don't get me wrong, it's not Miss Luo's TNT.
With HUAWEI MatePad Pro with the new WPS, when you do slides, you just need to enter key copy into a blank page and then click Smart Layout, which will automatically help you match the background, choose a font style, and have a variety of layout styles to choose from.
Ideal for temporary use where you need to have a meeting and need to be on stage for a slide presentation.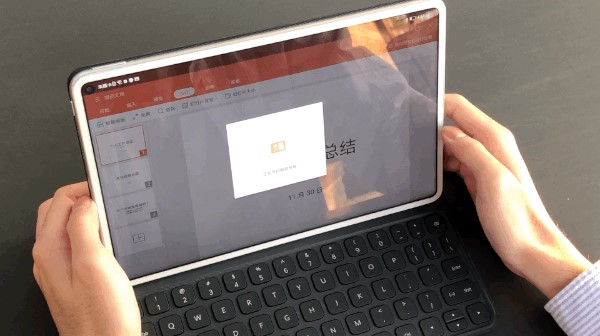 In addition to slides, the documents in WPS are also optimized for M-Pencil.
When selecting text in a document, you no longer need to point your finger at the word to choose, just use HUAWEI M-Penci a circle, you can choose immediately, very convenient.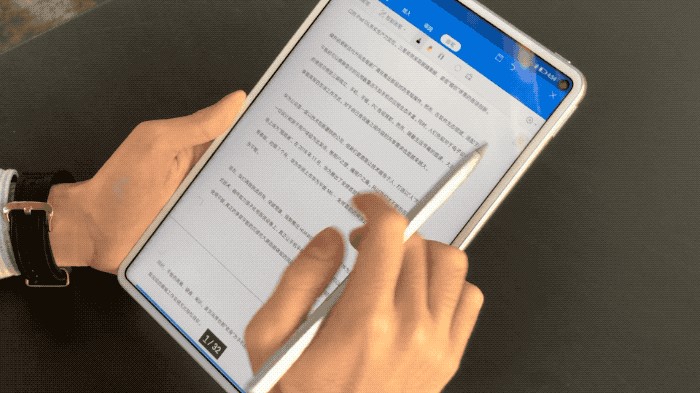 And the second killer is computer mode.
When you enter computer mode, the interface layout will be more like a PC, visually making people more focused.
Apps can be opened in the form of windows, windows can be moved at will, or any number of app windows can be opened in the desktop, convenient multi-task switching.
If connected to the Bluetooth mouse, in the production of forms and other work efficiency will be greatly improved.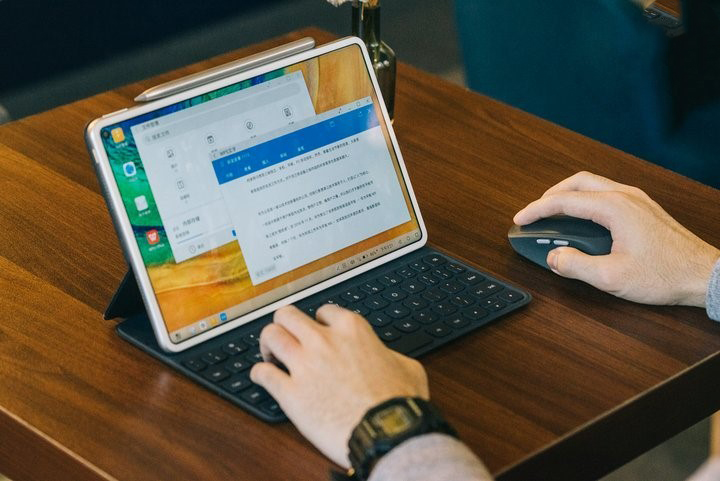 All of the above, need to be backed by performance hardware
Whether it's 20ms of HUAWEI M-Pencil latency, smooth multi-screen collaboration, or quick and easy smart layout, you can't really rely on the support of performance hardware.
It's like no matter how luxurious the superstructure is, without the strong infrastructure.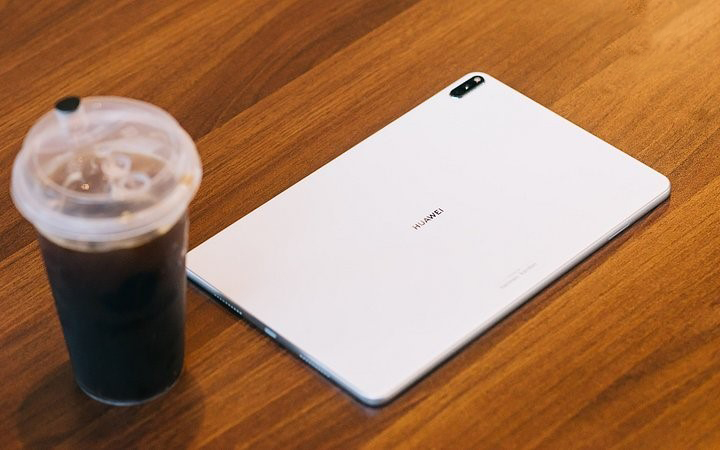 As the flagship tablet, HUAWEI MatePad Pro naturally comes with Huawei's most advanced Kirin 990 SoC, as to how the chip is powerful and how well it should beperformed with large applications and games, we have tested it in detail in the Mate 30 Series review series of the same chip. , not much of the narrative here.
The bottom line is: completely surplus, no need to worry.
In terms of battery life, the HUAWEI MatePad Pro features a large battery of 7250mAh, a co-op for the Kirin 990 7nm process and EMUI's smart power-saving strategy, and in my four-hour office test (using WPS, web browsing, connecting Bluetooth headsets to play music backstage), the battery is off power 35% consumed.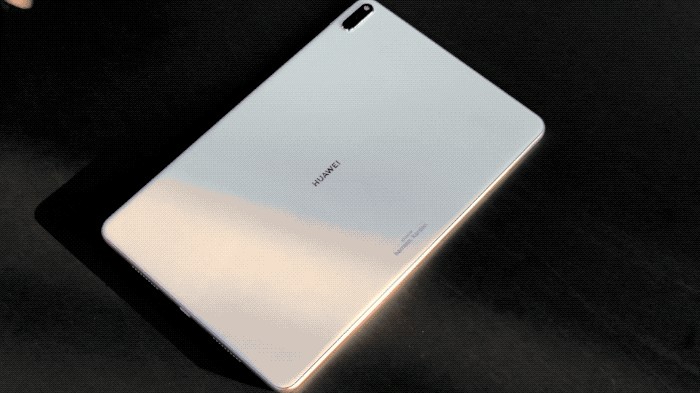 When converted, the HUAWEI MatePad Pro has an office life of about 11 to 12 hours in full power, perfect for a day's work intensity.
For charging, the HUAWEI MatePad Pro also comes standard with 20W of fast charging and supports 40W Super Fast Charging. Official data shows that it takes 30 minutes to charge, 3 hours for full charging, and 2.5 hours for full charging.
In addition, huawei MatePad Pro supports positive reverse wireless charging, which can become a charging pad for wireless charging devices such as your phone, smartwatch, wireless headset, and more if needed.
Mate means partner.
Back to the question at the beginning, what, with this tablet new product, can become the first product in the Mate series? In fact, we can answer from two aspects.
The first aspect is what the Mate series means to Huawei.
From the very beginning of Mate 7, the Mate series has been carrying Huawei's most advanced technology and design, each of which is arguably the master of all Huawei's technologies. This, after all these years, has never changed.
On the HUAWEI MatePad Pro, we saw the first wide design for the hole-cutting screen technology on a tablet, a sense of order, m-Pencil, and multi-screen collaboration that requires a strong hard and soft ecosystem.
Of course, Huawei's most powerful Kirin 990, 2K QHD screen, 40W fast-charging and other "luxury infrastructure."
So whether it's design, technology, or hardware configuration, this tablet is well-deserved to be named the Mate series.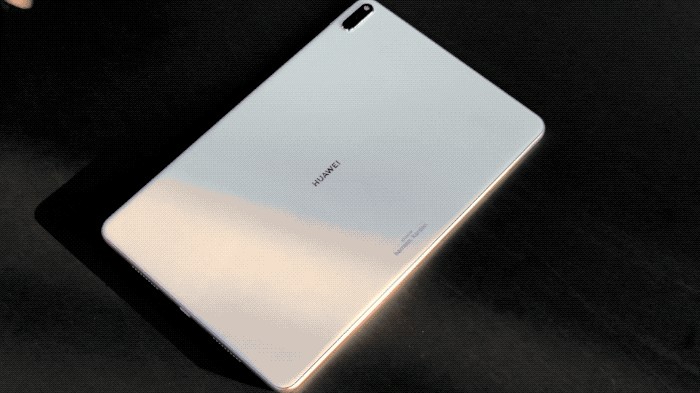 The second aspect is the meaning of mate itself: partner.
A lot of people say that the tablet can't talk about productivity yet. I think, for half.
It's true that he's going to be your main productivity tool, and it's a little too far away. But as a mobile work device that can be easily taken away and turned on at any time, the MatePad Pro is enough to be available, both on a hardware base and in terms of software.
So HUAWEI MatePad Pro never really wanted to replace anyone, just to be a good partner on the road that you can always be on the road to work like a sudden.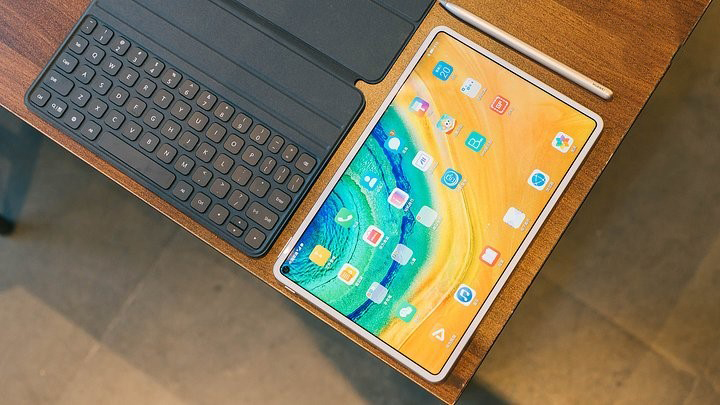 Of course, in addition to being a partner, the MatePad Pro will have to play another role this time, the pilot in the Android tablet camp.
Looking at the entire domestic market, Huawei's tablet market share has been in a leading position. In the third quarter of 2019, Huawei was the first to have 2.12 million units of shipments, with a market share of 37.4%, according to IDC.
But the Android tablet market, in fact, has been lack of a breakthrough product to drive the overall ecological progress. And this time the HUAWEI MatePad Pro is ready to take on the role. After all, the Android tablet ecosystem has been forgotten a little longer.
0 customer responses