Honor Magic Watch 2 in-depth review! You can call with your watch this time
Posted in
Smartwatches come in two forms, one is used as a tool to provide accurate time and notification alerts for everyone's working life. The other can become a light luxury, quietly hanging on the wrist, always inadvertently showing its light. Smartwatch sits in these two different forms, giving it two markets at the same time, so the smartwatch market has always been a must-win for major manufacturers.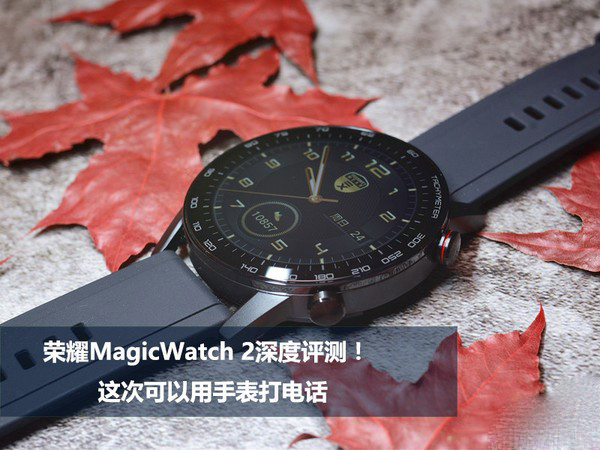 Honor Magic Watch 2 In-depth Review!
The history of watches need not be said, watches have been born for more than 200 years, but the birth of smartwatches is definitely a new thing. Honor launched the smartwatch not too soon, and last year's launch of the Honor Magic Watch got a good market response. This year, we've continued to launch an upgraded version of the Honor Magic Watch 2. Honor Magic Watch 2 is a high-spec upgrade based on the original product, bringing features such as super Bluetooth calls, standalone music playback, healthy cardiac arrest, and a dial touch. At the same time, The Honor Magic Watch 2 offers a richer range of sports, health and everyday services. Honor Magic Watch 2 is positioned as a young male group that loves sport, work efficiency and quality of life. I got this smartwatch in advance to do an open-box evaluation for everyone, let's take a look.
Out of the box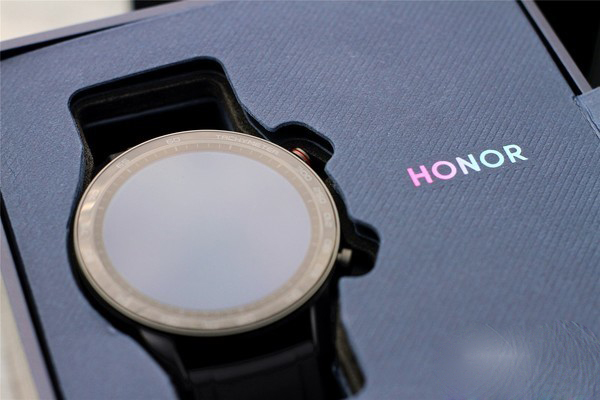 The Honor Magic Watch 2's outer packaging is not much different from the previous generation, both matte black, front printed with brand Logo.
Open the box, the first thing you see is the smartwatch body, which is fixed to the left side of the box with a sponge board.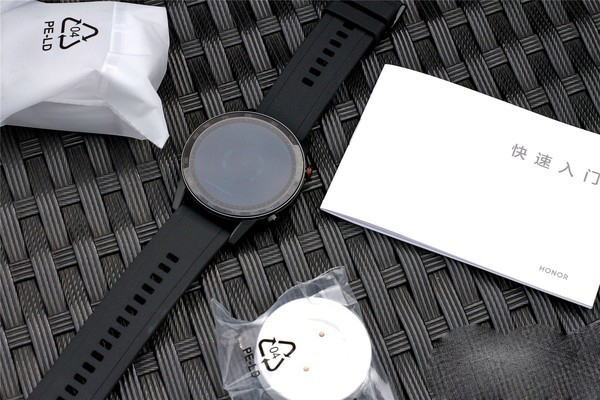 The right area is the accessory area, which has a charging base and a power cord. It's worth noting that the Honor watch's charging base and power cord are separable designs, unlike the all-in-one charging base designs common lying on the market. This design is beneficial, daily travel can take less than a wire, directly with the phone charging cable can charge the smartwatch.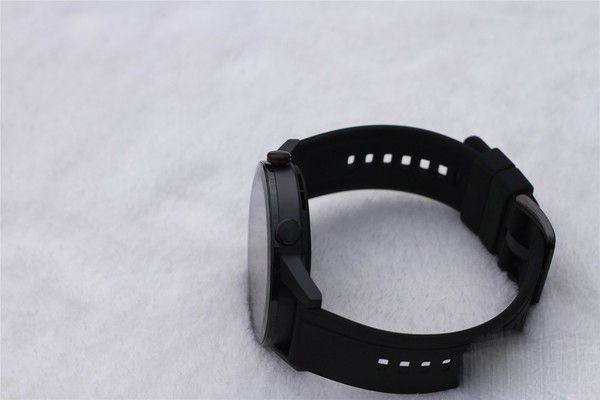 Honor Magic Watch 2 just got on hand, and the light touch i'm unforgettable. We got the 46mm version of the Sport Black Black Honor Magic Watch 2, which, while the dial looks larger, has better thickness control than the average smartwatch. The Honor Magic Watch 2 is designed differently from the previous generation of watches, with an all-in-one 2.5D glass design. The entire screen slides without a barrier and is very smooth. The watch's frame is made of metal, removing the diamond-shaped cut pattern of the previous generation of products and turning it into a smooth matte treatment, giving the impression that it's sporty and business-like.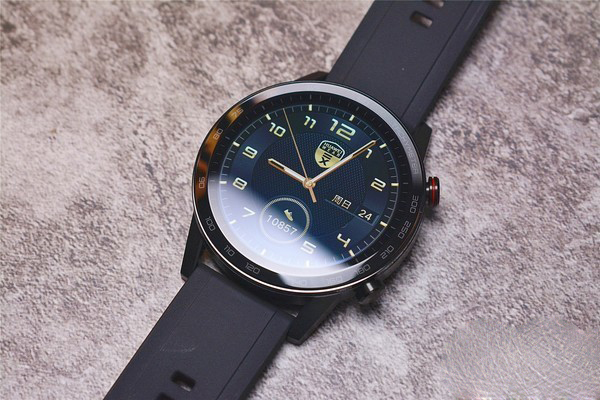 The screen resolution of a smart watch was once a big flaw in the smartwatch. The Honor Magic Watch 2 features a 1.39-inch AMOLED HD screen with a screen resolution of 454 x 454. AMOLED screen has the advantages of high color saturation, colorful color, high contrast, thin and so on. Before the smartwatch adopted the AMOLED screen, everyone used the LCD screen, which has many problems such as not showing enough color, the screen itself is too thick, and so on. But the emergence of AMOLED screens has improved these problems. The Honor Magic Watch 2 features an AMOLED screen of up to 800nits, which guarantees the watch's display when the light is strong.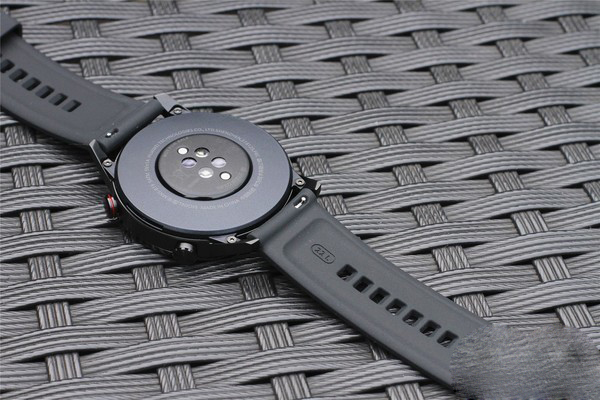 On the back of the watch is the heart rate sensor and charging port interface area, with four screws fixed to the metal back cover. The heart rate sensor module raises the same height as the ear, so the advantage of the design is that the wrist doesn't feel oppressive when you wear the watch. As an upgrade to the previous generation, the Honor Magic Watch 2 adds speakers and microphones to support Bluetooth-connected phones to answer calls and watch music to play alone.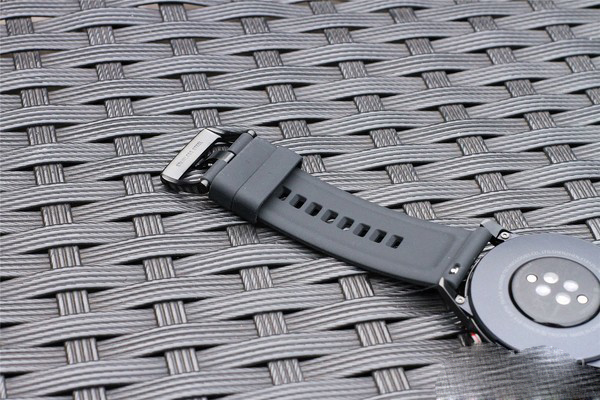 Honor Magic Watch 2
The Honor Magic Watch 2 strap has also been completely changed, with the red-and-black double-layer straps of the previous generation upgraded to a single-layer black design, with the new straps having a softer and more breathable texture. The clasp is a black pulley treatment that gives a more advanced feel than the previous generation's products.
Functional experience
It's easy to talk in any environment
Many users buy smartwatches because they receive phone notifications or answer calls. In an environment where it's not convenient to use your phone, the watch can still do some of the functions on the phone. The Honor Magic Watch 2 is powered by Huawei's first self-developed wearable chip, the Kirin A1, a highly integrated heterogeneous chip with multi-core and efficient collaboration capabilities. With multi-sensor slots such as motion, music, intelligent heart rate, and sleep monitoring, ultra-low power operations and robust battery life are still available.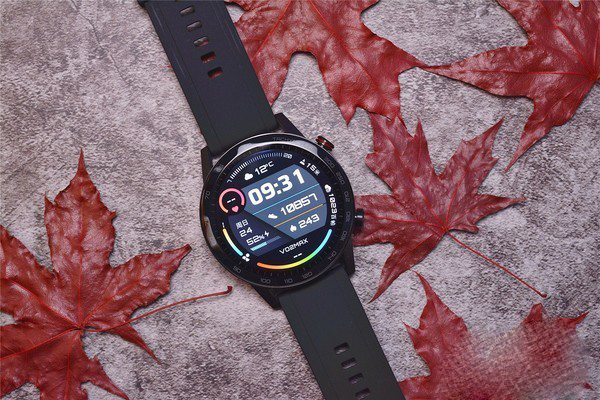 The Kirin A1 chip used in the Honor Magic Watch 2 also supports BT/BLE dual-mode 5.1, supports super Bluetooth, effectively increases connection transfer rates, and also widens the distance and range of Bluetooth connections. Open, unobstructed environment, Bluetooth call distance up to 150 meters. Don't worry about being indoors, whether it's a few walls between the phone and the watch, you get good call quality. One of my jobs is to take pictures of some products, mobile phones will inadvertently put on, often cannot find the phone caused by missed calls. But wearing the Honor Magic Watch 2 makes it a lot more convenient to connect directly to the phone.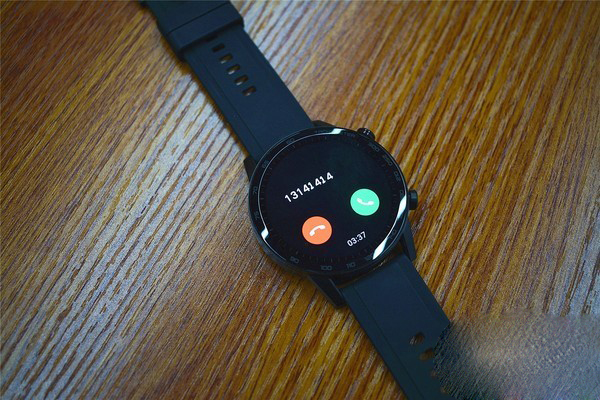 Call features
Professional and diverse fitness mode monitoring
Honor Magic Watch 2 has intelligent health management features, including heart rate monitoring, sleep monitoring, stress monitoring, blood oxygen saturation, and heart monitoring. Users can observe their physical health in real time, when found abnormal, the watch will issue recommendations to remind the user to adjust to a normal life. Blood oxygen saturation is my more expected function, blood oxygen content will cause such as: fatigue drowsiness, lack of good, dizziness, rapid heartbeat and other reasons, office workers really need this function.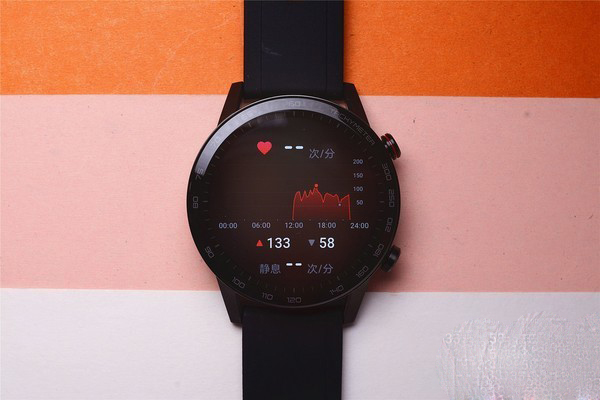 Heart rate detection
Motion monitoring is also one of the features often used by many smartwatch users. The Honor Magic Watch 2 uses high-precision PPG sensors, combined with AI algorithms, to help users monitor body changes around the clock. Can provide users with arrhythmia diagnosis, treatment, follow-up services. In addition, The Honor Magic Watch 2 supports a variety of sports, such as swimming, running, mountaineering, triathlon, indoor addition of elliptical/boating machines, etc.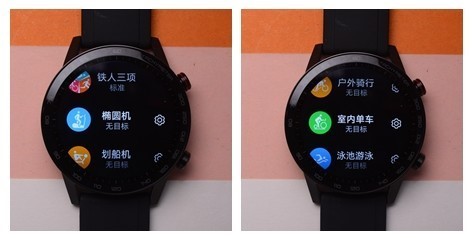 Sport mode
For example, I prefer to run myself, and Honor Magic Watch 2 can get real-time information about my heart rate range, training effect, speed, cadence, etc. when I run, which can help me complete my running plan. In addition, The Honor Magic Watch 2 includes voice guidance that allows you to provide voice alerts during a run and broadcast professional running advice.
cardiac early cardiac monitoring, your health it knows
Cardiac early-fighting is something I only learned about when I experienced Honor Magic Watch 2. I didn't know the importance of this function until you've looked at the knowledge of early cardiac arrest. Premature impulses from ectopic pace points cause heart beats are the most common arrhythmia. Occasional early beats are common in healthy young people, although not the cause of heart disease, but severe cardiac early cardiac arrest may occur sudden death. I hastened out the mobile phone, careful operation, see their monitoring results show normal, I am relieved.
Early cardiac arrest monitoring function
Honor Magic Watch 2 makes accurate judgments on jump-by-jump early-beat waveforms based on expert experience and artificial intelligence algorithms, providing both automatic and active measurement modes to capture early heartbeat data in abnormal states and to care for heart health. Honor Magic Watch 2 is based on Huawei Hiresearch cloud statistical analysis data, combined with 301 Hospital MAFA system, for suspected early fight high risk users closed-loop management services.
Healthy Cardiac Early Cardiology requires the download of the Heart Health Research App released by 301 Hospital, along with the Honor Magic Watch 2 and Honor/Huawei phones, to join the Heart Health Research Program. Honor officials also remind everyone that smartwatches are not medical devices, measurement data and results are for reference only, not as a medical diagnosis. How to say, find the problem should pay attention to, can not be taken lightly, I wish we all have a healthy body.
Stress detection helps you relieve pressure easily
According to the research data, young people today generally have the problem of excessive stress. Pressure from all sides prevents them from being able to maintain a relaxed and pleasant mood to face work and life. The Honor Magic Watch 2 also provides pressure monitoring to provide users with pressure distribution slots at different times throughout the day. If the current pressure is found to be too high, the user is advised to try to turn on breathing training and release your pressure under the guidance of the watch.
Pressure detection
Here's my stress detection data, which is consistent with my current state. And the pressure test of the Honor Magic Watch 2 is based on the technical testing of the Chinese Academy of Scientific Psychology, the authority and accuracy are reliable.
Indie music playback keeps you entertained
Running while listening to songs is a choice for many users when running. Honor Magic Watch 2 has built-in 2GB of storage and can download about 500 MP3 songs to fill your smartwatch with your favorite music. When playing music, you can also connect to Bluetooth headsets, easily realize the absence of mobile phone sports can also enjoy music. Friends who want to download their own music can find the settings on Huawei Sports Health APP, click on the music button, and then add music. If the outside music is not very convenient, the watch can also be connected to a separate Bluetooth headset, making it easier to listen to sports music.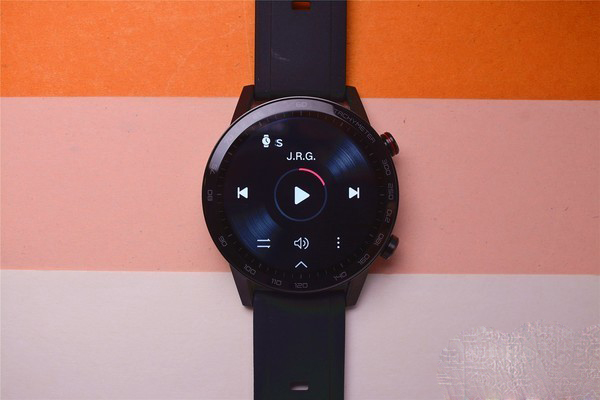 Personalized dials make it easy to differentiate yourself
Smartwatches are also popular for another reason, is to support the replacement of dials, a variety of dials, can be paired with different clothes in different scenes.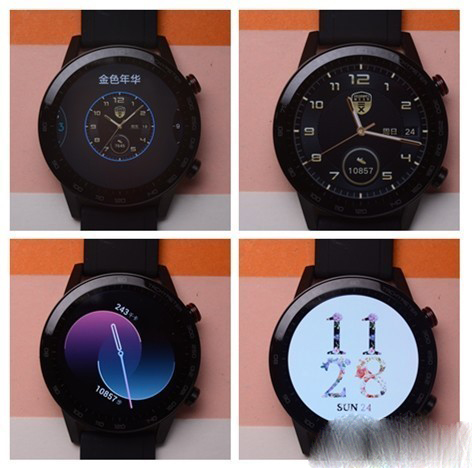 Honor Magic Watch 2 also has a cool feature that supports a touch of the dial. The feature is a "one touch" technology that Huawei has innovatively introduced in the PC field, allowing users' pictures to be displayed on a watch face by touching the back of the watch and the phone lightly.
On the watch's settings page, click on the touch-to-hand setting to turn on the One Touch function of the Honor Magic Watch 2. Then choose a photo on your phone, just touch your phone and watch gently, and enjoy the different experiences of the Honor Magic Watch 2 with a different pattern dial every day.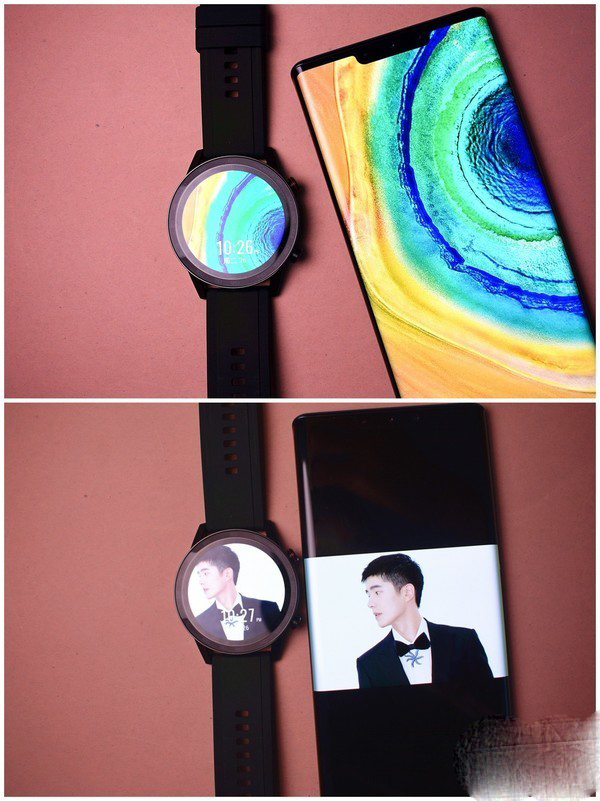 The dial touch-through function
Long-lasting battery life makes it easy to use
The Honor Magic Watch 2 has a built-in 455mAh battery, combined with Huawei's Smart Power Saver 2.0 mode, and is used for up to 14 days in typical scenarios. Daily open heart rate monitoring, receive information notifications, trot a ride every day and answer a few calls, two days of battery life is no problem, eliminating the need to charge the smartwatch every day.
Use the heart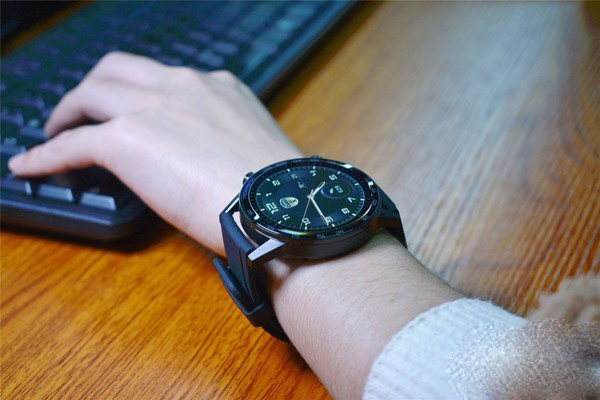 Honor Magic Watch 2 Wearing Scene
With The Honor Magic Watch 2 these days, the biggest feeling for me is the comfort and lightness of the wear. An experience similar to a senseless wear, with efficient information notification capabilities. A wide variety of built-in dials and personalized dials are also my favorite features, with different moods, change different dials with. Health monitoring function in the process of use, but also very powerful, such as heart rate detection, blood oxygen saturation function, will remind you to do the right amount of exercise, it is simply lazy essential.
Imagine when you inadvertently lift your wrist to reveal your watch, which will tell you today's weather, temperature and information, isn't it convenient? These days, I also formed a habit, every day after work, to the riverside trot a few kilometers, Honor Magic Watch 2 is silently supervising my exercise. I'll also look at the Honor Magic Watch 2 before I go out, and the weather information reminds me to keep warm. Newly added call function, is also very convenient, mobile phone is not around, will not miss important calls.
Summarize
The Honor Magic Watch 2 has many highlights, super Bluetooth calls, healthy heart early fights, indie music playback, and a dial that's more playable than some smartwatches on the market. A watch can achieve many of the functions used on a mobile phone, say is a watch, more like a small phone on hand. Looking at some of the smartwatches on the market, the quality and workmanship is uneven, and Honor Magic Watch 2 won't worry you about the quality of the watch. Many brands of several thousand dollars of smartwatch can achieve the function, Honor Magic Watch 2 can be achieved, and the minimum as long as the cost of 1099 yuan, is it more worth it?!
0 customer responses